We need fresh food all the time and we want it to be tasty and nutritious. When it is impossible to use natural conditions for growing plants and greens, it is worth using a self-contained gardening system called an indoor garden tower. Now, you can grow fresh vegetables and herbs no matter where you live and what season it is.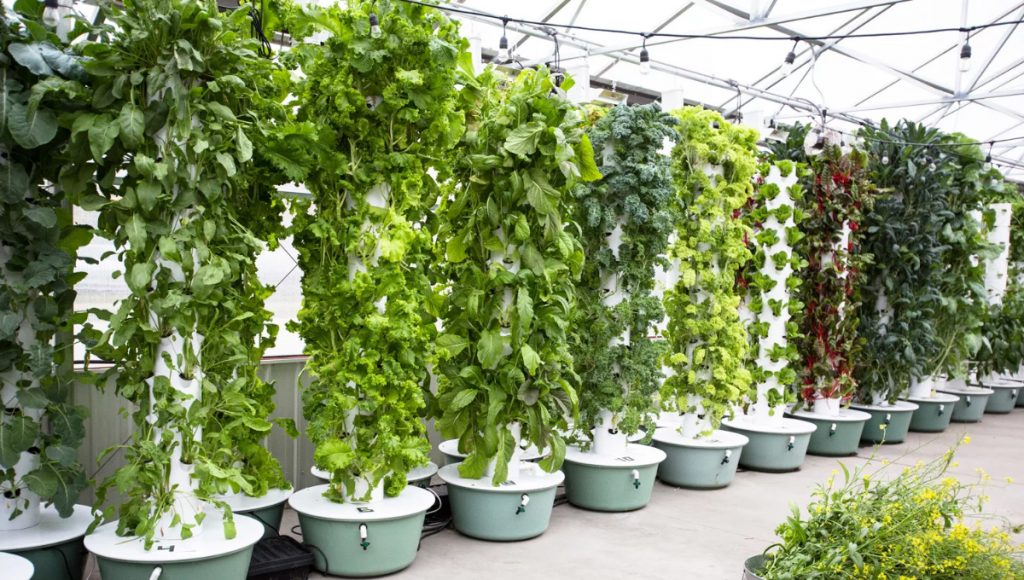 This appliance does not use any soil, needs little water, and sometimes – additional lighting. Of course, it won't require any weeding. Even if you do not know how to grow plants but want to have fresh food you have grown yourself, you can use the indoor tower garden method. And you need to opt for a system that will meet all the needs out of many variants available on the market today.
The indoor garden towers can be hydroponic and aeroponic. Here are some most widely used hydroponic towers you can find on Amazon.com or in your brick-and-mortar gardening store.
The Most Popular 5 Hydroponic Indoor Garden Towers
A hydroponic gardening tower is a system of planters that utilizes a motor pump, nutrient solution, and water for growing herbs, greens, and vegetables either indoors or outdoors when you are limited in space. By using it, faster plant growth is achieved and there are no soil-related problems. The recycling capabilities allow for using less water and nutrient solution while you get your crops all year round.
This system is designed for both outdoor and indoor use. The planters are made of durable polypropylene. The black color helps protect roots against excess light. The design is ideal for indoor gardeners. Its design protects plants from overwatering, disease, and root rot.
The tower occupies just 4 sq. ft. of space, so it is ideal for homes, balconies, patios, or rooftops. It is easy to support and take care of without ground pests, soil, and weeds. The unique advanced hydroponic technology allows for using 90% less water for twice as fast plant growth compared to other products. You can grow both small and big plants, for example, peppers and herbs, eggplants and tomatoes, melons and cucumbers in it. Seeds and starter plants are not sold within the kit.
The model is recommended for indoor use. The new deep-water technology is used in this hydroponic system making it the most efficient indoor garden tower on the market. You can grow about 44 plants in it. The area of the whole system is only 2 sq. ft. You need to use a rotating motor and the pots are removable. The grow lights are not in the set so you can place the tower somewhere next to the window or buy the lights.
The material is BPA-free polypropylene. The design is beautiful and the plant care is easy and convenient. The deep-water system is automatic. It circulates nutrients and water throughout every pod. The nutrients, a pH control kit, rooting plugs and a salt meter are included. The latter is totally dissolvable. The antioxidant and UV-resistance properties help reduce the formation of algae.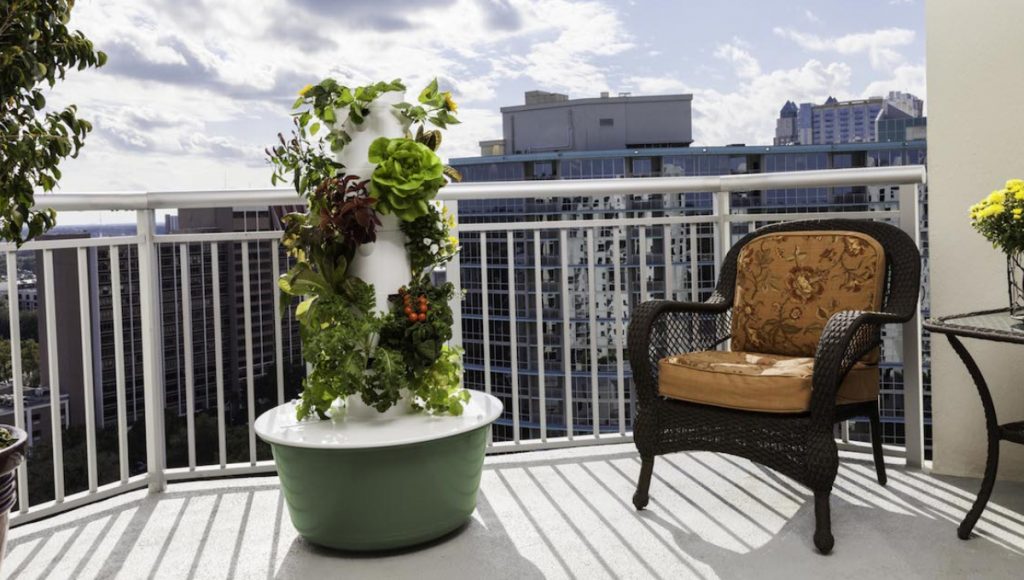 You can grow the endless options of plants and herbs here, such as spinach, kale, red and green lettuces, strawberries, and many other greens. Growing root crops, such as carrots, potatoes, or beets is not possible.
This Nutraponics system is designed for maximum automation and producing rich crops indoors or outdoors with minimal effort. The yields are higher and plants grow very fast. You can control the amount of water supply, humidity, energy used, and spray timings. It saves up to 65% of energy.
The efficient use of water is ensured. Unlike with traditional hydroponic systems where most water vaporizes into the air, all the evaporated moisture is involved again in water circulation and reused by plant roots. You do not need any soil, just nutrients, and water. The system produces 40% greater crops than traditional systems.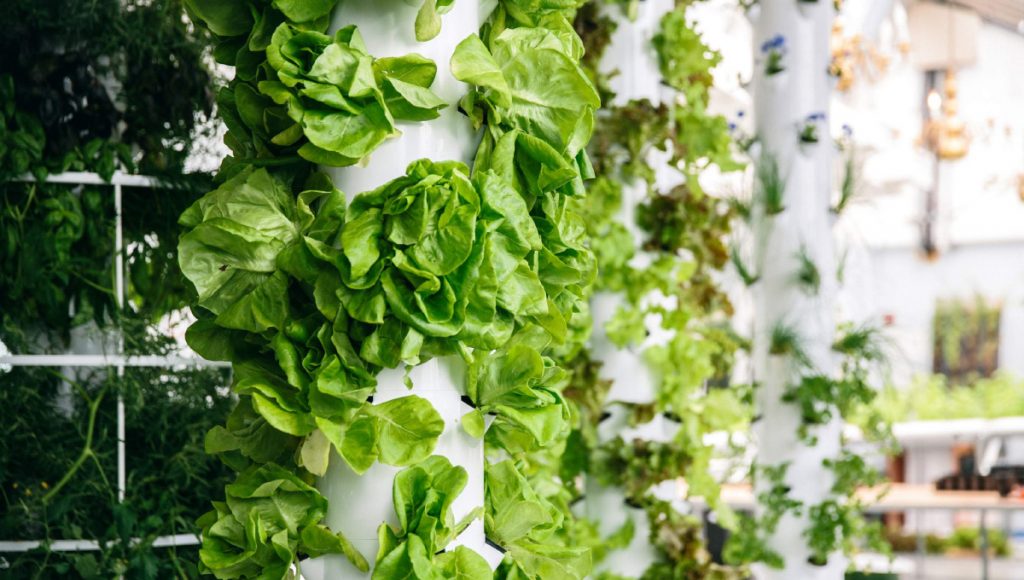 The appliance is great for beginners to grow food from the comfort of home. It can be programmed to deliver nutrients immediately to the roots and that saves about 95% water.
The system assembling takes about 25-30 minutes according to the attached instruction. The plants will be ready to use just in a few weeks.
This system is very simple in use so it is very popular among home gardeners. The planters are made of UV-protected and food-safe plastic. The system is smart and quite efficient – when you water the top pot, the structure will self-water other tiers below. You can grow about 20 plants in it. The system is great for growing different kinds of plants – peppers, herbs, tomatoes, strawberries, succulents, lettuce, and many others. It saves a lot of indoor space maximizing the amount of harvest. The flow-through design does not allow for root rot because of overwatering.
The system can be used either hydroponically or with soil. When used with soil, choose a good moisture-retaining and breathable kind. If you opt for the hydroponic growth of your plants, coco peat or perlite growing mix is recommended.
User's Guide: Answering the Most Essential Questions
Here are some questions that novice indoor gardeners would often ask about the indoor tower garden method of growing plants.
What Does a Tower Garden Stand For?
Everything is in the name – it is a tower where you grow plants. It is a plastic container meant to hold these plants. The container is usually made of food-grade plastic which is free from BPA and UV-resistant so it is not harmful to health. Such towers can hold 20, 84, or even 336 plants. This depends on the type of system and your needs. You just assemble the system, add seeds, and locate them in special compartments.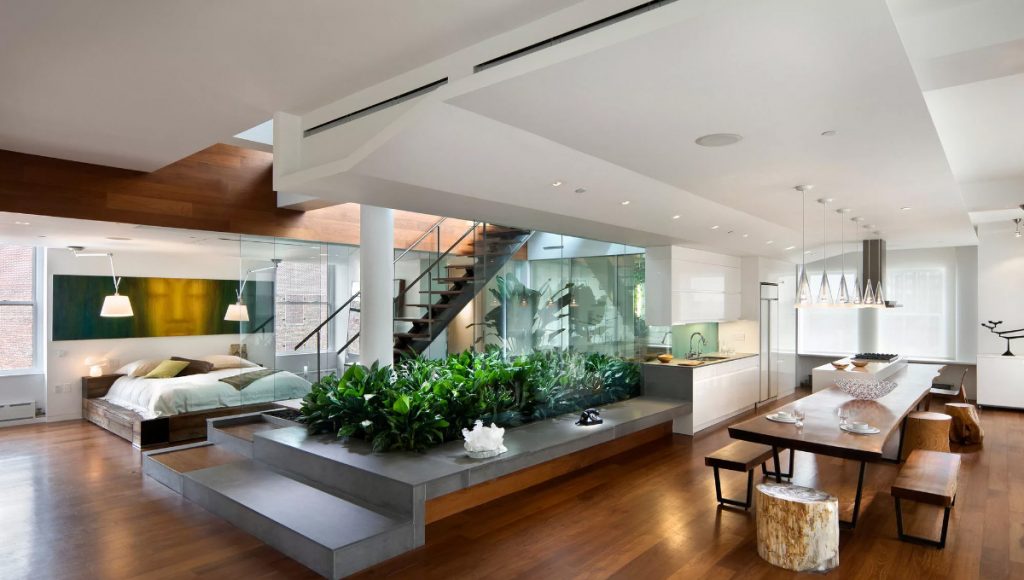 Why Are Some Tower Models Better Than Others?
There are two ways of growing plants indoors – hydroponic and aeroponic ones. Hydroponic systems may need some soil (or just humidity), water, and nutrients. Aeroponic ones do not need anything like that. Such air plants take all the moisture from the air.
The tower system means that roots are enclosed in the dark and they get nutrients and water owing to the special construction of the tower. Such a growing method is never messy at all. Do not worry about fertilizers and soil – you just use the mineral blend which is included in the package. You need to buy some more of it with time.
Place your vertical tower whenever you like. The location can be a balcony, backyard, countertop, porch, or other traditional indoor or outdoor spots. For indoor growth, your plants will need more light so think about acquiring special grow lights.
We cannot provide you with a certain answer to what type of system is better. It depends on your needs and preferences but you can obviously see the advantages of any type.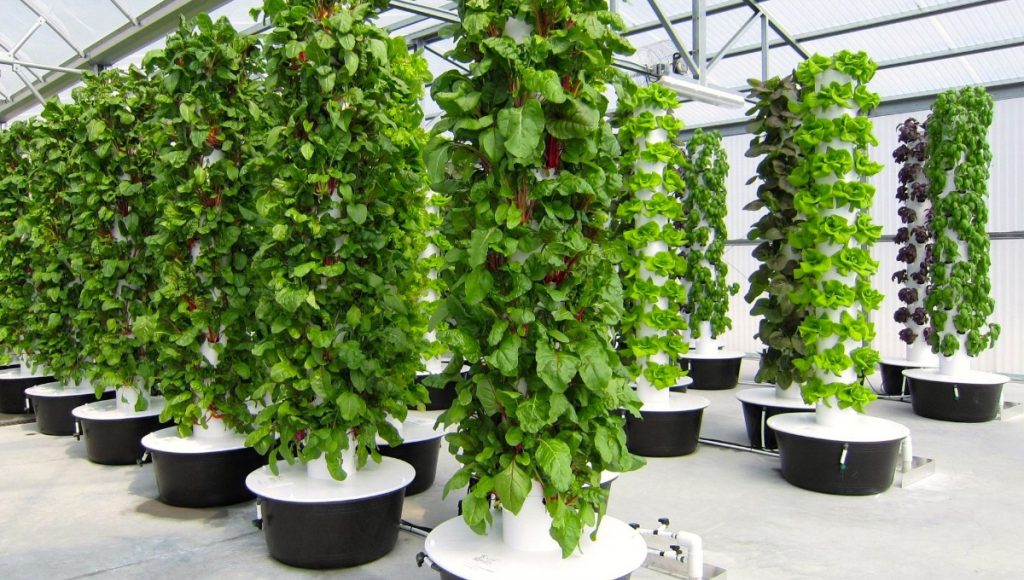 What Should You Monitor in Your Tower Garden?
First of all, monitor the pH of your garden. The systems normally come with a pH test kit and some bottles of pH adjusters. When the weather is hot and it is boiling inside your home, add some more water and check it more often. Also, remember to add a nutrient solution, normally, once in two or three weeks. Check whether your plants have enough sunlight. The indoor grow lights should be of the proper spectrum.
Do You Need Any Extra Accessories?
Acquiring an indoor garden tower, you are sure to need some accessories that do not come with your system. They may be the following once:
LED indoor grow lights. Everything is understandable here but you need a set of lights meant specifically for a garden tower.
Mineral blend. You get it with your garden tower but in a while, you will have to buy some more. This blend consists of copper, calcium, manganese, nitrogen, phosphate, and other minerals mixed.
Support cage. This is needed for some plants such as squash or tomatoes to provide some place for them to lean on.
Extension kit. You will need it if you have filled all the spaces on your tower with plants but still need more.
Tower garden dolly. The tower garden can be immensely heavy – it can hold up to 20 gallons of water. So it is difficult to move it about and you may need some wheels to relocate your tower from one place to another or you may need to spin it for getting more sunlight.
Timer. Most tower garden systems go with a timer. But you may need a replacement, for example, when you have to set it for your garden watering in cycles.
Microgreens extension kit. You can plant up to 32 microgreens in such a kit and locate it on top of your tower garden.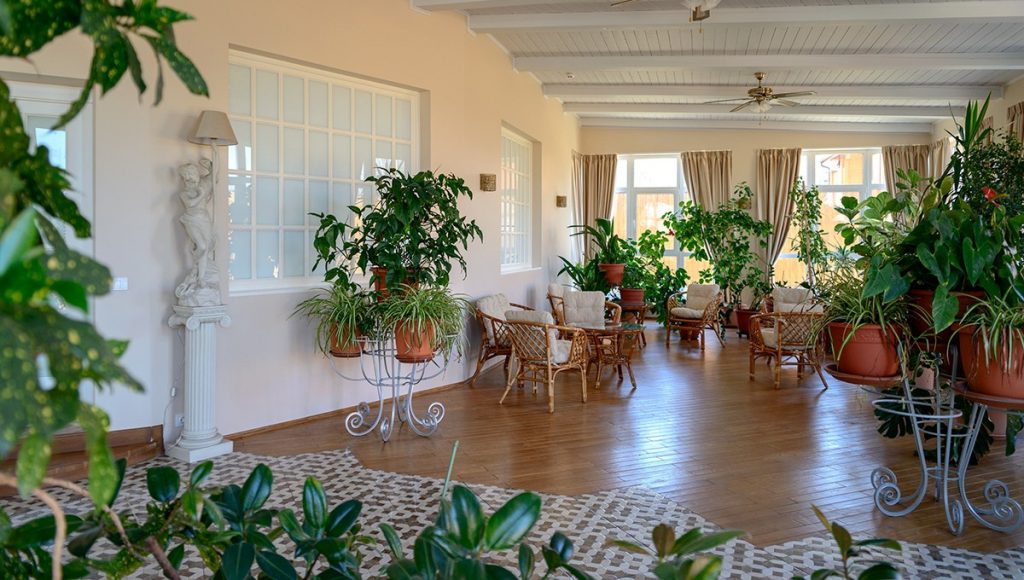 Conclusion
Indoor gardening is not a difficult occupation and it should not be like that. The indoor garden tower system does not demand your deep knowledge of gardening. You just need to follow the instructions and check whether your plants receive enough water, air, light, and nutrients to grow healthy. You will also have to check the pH levels and adjust them if needed. In some weeks, you will be able to harvest your greens and enjoy them. Look for the garden tower that fits all your needs and expectations and you will be satisfied.