Life is often very stressful – a lot of work, unpredictable changes in situations, and unexpected conflicts load a heavy burden on your nervous system. You need some relaxation and the best way to relax at work is to have a mini zen garden on your desk.
Traditional Japanese zen gardens consist of sand, gravel, and stones. Often, some statues and statuettes are included. Sand and gravel are symbols of water that has ripples. So, you draw some patterns – circular or linear ones – on the sand and it calms you down. Stones or rocks are symbols of islands or other features in river landscapes. They are placed asymmetrically, in the form of triangles, or in some other shape that is pleasing for eyes. Many modern zen gardens also have some mosses, plants, and, rarely, water features in them. They are used as decorative elements that attract attention.
The 5 Best Mini Zen Gardens Recommended for Your Relaxation
Special mini zen garden kits can be purchased from Amazon.com, any other reliable online shop, or even in the local household store. It's up to you to find the kit that speaks directly to your feelings so you can opt for some items described here.
This product includes many figures – two bridges, a rock, foliage, an aged trunk, and white soft sand to draw whatever designs you like according to your mood and personality. The set goes in different variations – with rectangular or round bases, with white, brown, or black sand, with figures of lotuses, buffaloes, or cranes. There are also three rakes to draw something on the sand in the kit – a giant T, a pronged one, and a special pen.
You can pursue your inner peace and relieve stress creating a zen garden of your own. The kit is a nice gift and can make up an attractive desk and room decoration presenting your personal style.
This is the thing you need badly to relieve your everyday stress and feel more mindful. The kit consists of a solid wooden base, white sand with an extra bag of it, stones, a special 'zen stone', two Buddha figures, and 6 bamboo rakes. It is great for office desks, bookshelves, and can be used as home décor.
The zen garden mini is a great way to practice meditation. Take a few minutes to focus on the sand and stones to clear your mind and perception, and get rid of the entire anxiety of the hard day.
This mini zen garden looks beautiful though the base is quite narrow (14×5 inches) and does not provide much space for raking and creativity. It is a visual thing that can be used as a means of meditation and deprive your mind of stress and uneasiness.
The kit includes a black base, a Buddha figurine, sand, two lotuses, an incense burner, and a green Tara sticker. The burner is a centerpiece. Lotuses hold candles so the light looks perfectly reflected from the figures. The Tara sticker can be used as an amulet for your car, office, or house. Stuck on the window, it can help overcome obstacles and protect you from accidents, thieves, and natural disasters.
This kit is a great way to enjoy a holiday scene full of snow, happiness, and relaxation, and everything – from your countertop. This zen sand garden with a contemporary interpretation makes your stress melt away.
The sandbox is handcrafted and 8.5 inches in diameter. The kit includes winter animals, snow-white sand, candy canes, snowballs, holiday trees, a rake, and a drawing stylus. You have everything here to relax, meditate, and leave all your troubles behind. It can become a great present for your friends to reset mindfulness, and release stress and anxiety.
This great kit represents a miniature version of a real traditional Japanese zen garden used for meditation and relaxation. The kit consists of fine white sand, a wooden stylus, a conventional metal tin with a see-through lid, five beautiful hand-selected stones, three stack stones, and a logo. The mini zen garden is portable and it is a really great idea because you can move it to the place which you find more suitable for it.
The item is a great option for your family and friends, creative children, college students, and workmates. Using it for concentration and developing your mindfulness at work, you will become more confident and efficient.
Buying Guide: Consider Choosing a Mini Zen Garden for You
You cannot find a certain answer on what the best zen sand garden is. Everything is pretty individual. However, there are some things you would like to see in your desktop Japanese garden that really matter.
The Shape of Rakes
The rake should be smaller than the size of your garden box. You will not be able to make swirls and ripples with the rake which is too big.
Most rakes consist of two parts – the handle and the prongs on the head. You use these prongs to draw the waves and the end of the handle to rub them out. A T-shaped rake helps make the surface very smooth and the pointed pen or stylus helps draw swirls or flower petals.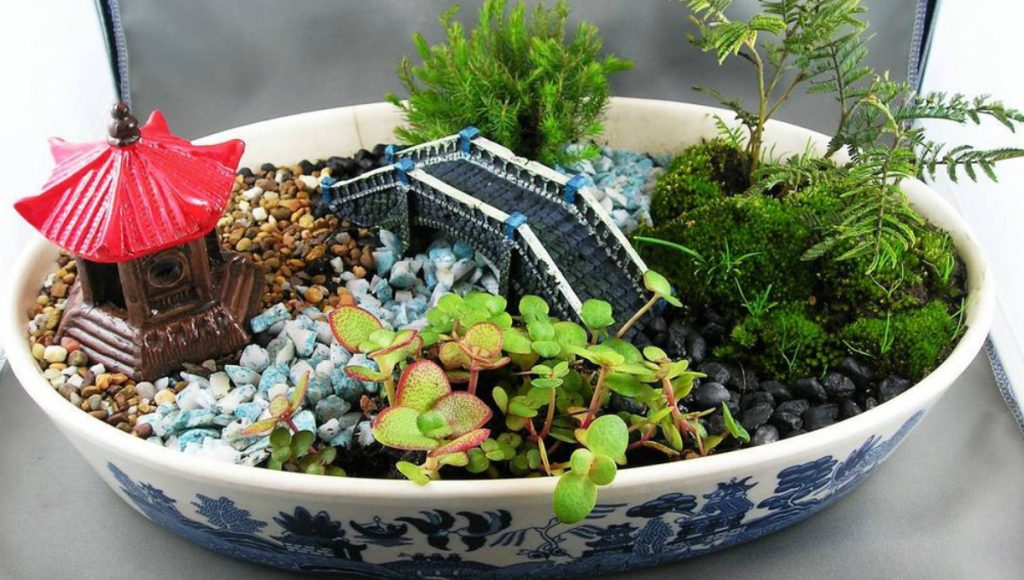 The Size and Shape of the Box Matter Very Much
Everything depends on the size of your desk and the number of items that are already on its surface. If there is not much room on the desk, opt for smaller boxes but, if space allows for a bigger box, choose it because you will have more space for drawing and raking.
The shape should also be taken into consideration. Narrower boxes fit well the edge of the desk and occupy less space. However, they may seem too small for you. Then, opt for a square garden. Though it occupies more space, you will have more maneuvers while designing your drawings. Circular gardens look very nice and more calming. Though they take up much space and you will not be able to fit one against the corner or the wall.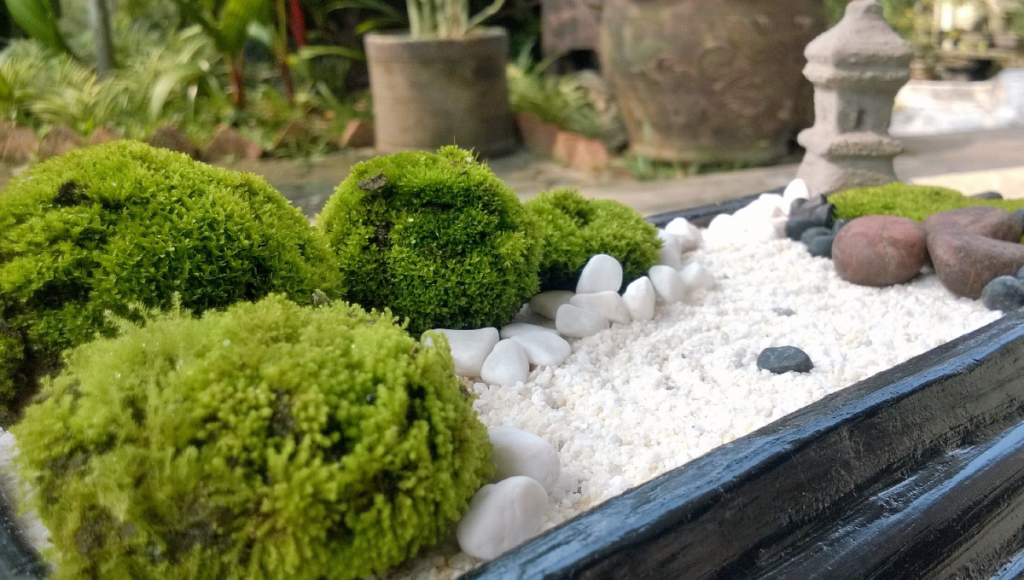 Sand Grains Should Be Bigger
Fine sand grains feel nice under the fingers. However, while placed on the desktop, such zen sand gardens may make a lot of mess. Light sand will fly out of the base easily with the slightest movement. When you choose bigger grains, they are heavier and you will be able to shape them perfectly well. It is also great when the set is sold with some extra sand.
You can opt for magnetic sand as well. That will allow you to draw your garden in three dimensions.
All the Figurines and Extra Components Should Be Appealing
Real-life zen gardens represent mountains and islands by rocks. That is why the set of stones is obligatory for your mini zen garden. You can also choose the kit with an incense holder in it and you will be able to gain your peace of mind through beautiful smells.
Some extra figurines such as Buddha statuettes, ceramic animals, or trees can also be present. Keep in mind the symbolism of animal figures. A crane represents longevity and luck while oxen are given for strength. The meditating Buddha will provide you with contemplation and inner relaxation.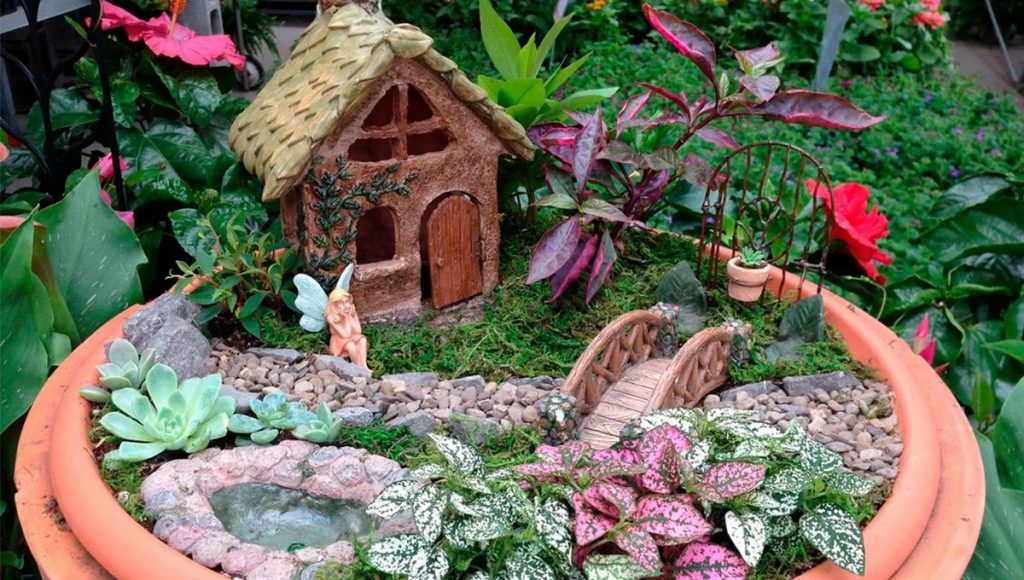 Conclusion
Life is stressful and hectic though it does not need to be like that. There should always be some room in it for relaxation and mindfulness. A mini zen garden on your desk or countertop can help you live a thoughtful and meaningful life and focus your energy and time on things that really matter.
You can choose a zen sand garden for your desktop out of many variants represented on the market today. It is only up to you to decide what you would like to see and how much influence it can make on your life and work quality, your mood, and overall views. These tips and represented products from Amazon.com can become quite helpful to make the correct choice.