No doubt, wall gardens indoor have a lot of benefits. They are great if your apartment is small – they do not occupy any space on the floor. Such gardens work well for air purification and they can provide you with fresh herbs, greens, and vegetables for your dinner table. Moreover, such green walls look absolutely stunning in your home décor.
The questions are often asked on how to arrange and grow a vertical garden indoors and what methods of plant cultivation to use. Indoor plants can grow well on the walls in soil, along trellises, in the substrate, or the water while grown hydroponically. It is up to you to decide which method suits you better.
The best way to set up such a wall garden in your home is to acquire some hydroponic wall garden kits or special planters on Amazon.com, or in your local household shop.
Here are some options of the best wall herb garden kits and specific tips on how to choose and use them.
The Best Options for Growing Wall Gardens Indoors
These simple but very convenient wall planters and kits for indoor use will help to turn your home into a beautiful living oasis full of great mood and joy.
This vertical garden planter is made of felt cloth and plastic. It provides a great growing environment for different plants including herbs, vegetables, strawberries, and flowers. The waterproof back layer ensures the protection for the wall against stains and the leak-proof bottom helps keep the floor clean.
The planting bag is breathable, sturdy, and corrosion-resistant. The excess moisture evaporates creating a favorable environment for plant growth. You can use these decorative planting pockets practically everywhere – in your living room, kitchen, patio, or loft. It also makes a perfect option for balconies and roof gardens as well as for outdoor use on fences, in the courtyards, or campuses.
This great 36-pocket planter helps arrange a stunning living wall in your patio, terrace, or apartment. You can use it in your living room or lounge. Actually, you can grow vegetables, flowers, herbs, succulents, and other plants almost everywhere.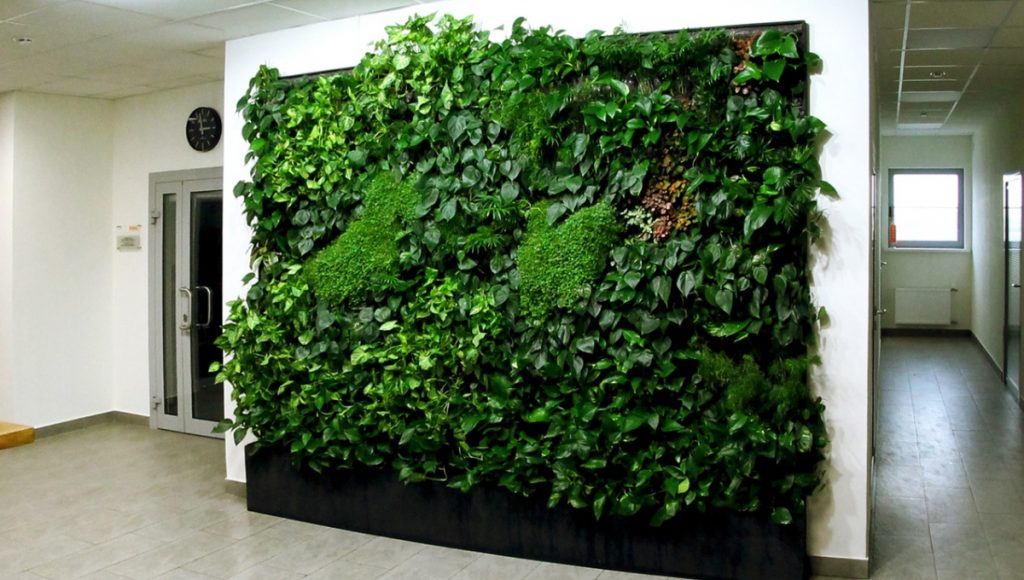 This vertical planter can hold only the right amount of water because of its drainage system that prevents oversaturation. The item is made of eco-friendly materials such as felt and steel. The double-layered felt provides rip and tear resistance while stainless rust-resistant steel eyelets offer additional durability and a longer lifespan of the product.
You will also get a pair of gardening gloves within the kit equipped with slip-resistant grips. The gardening guide which is easy to follow is also provided.
The set of living wall planters for indoor and outdoor use has a double-layer design. This modern concept means that the inner pot has a plant in it and the outer pot is for water. These two layers are connected with a cotton rope that transfers water to the inner layer of the planter. The smart design also helps the circulation of the air to the roots. You can refill water once a week.
The pots can be mounted easily on the windows, walls, cabinets, or fences. They are provided with special hooks for this. The herb wall planters indoor can be hanged in a different order horizontally or vertically on the wall. They are lightweight, made of durable PP plastic, and look very elegant as the wall vases. Such pots are great for indoor herbs, flowers, or other plants. The backside of them is flat that allows for their convenient adjustment to the vertical surface.
These amazing wall planters are offered in a set of three items. They can be chain-linked to make a green home wall. You can create a stunning wall view by chaining several sets. The color is white with brass hardware for connecting the pots and hanging them on the wall. The shape of these vertical garden indoor vessels is inspired by organ pipes.
Only one hole on the wall is needed for mounting these three pots. The vessels are linked with each other with the help of a tiny knob located at the bottom of each pot that also has a small hole in the upper part. The pot is 4×10 inches large. The Floralink kit can also be used for organizing tools and personal belongings.
This stunning hydroponic wall garden developed for all-year-round indoor farming contains 75 growing pots. The wall consists of 5 different levels saving much space in your home or workplace. The pending angle and grow lights that are height adjustable for the 4-inch range are patented and add much to the breathtaking indoor view.
The OPCOM Company has used the state-of-the-art Nutrient Film Technique (NFT) for growing numerous veggies and herbs hydroponically with the help of the ebb-and-flow system that continuously supplies nutrients to the plants.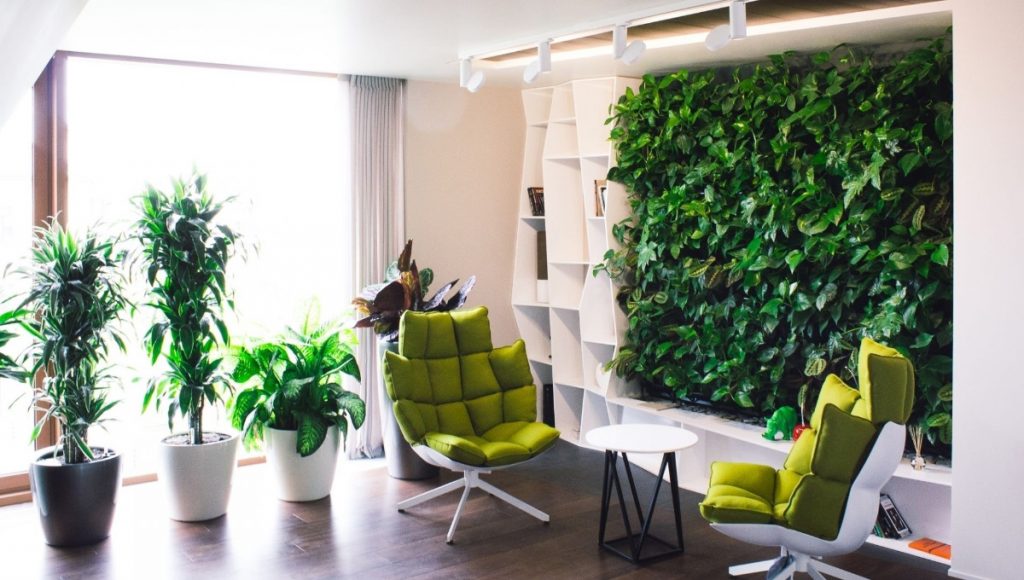 The light source is equipped with the day/night control timer that helps save energy and manages water and light supplying cycles effectively. The entire appliance does not need much maintenance and care.
The product includes a starter kit that consists of grow sponges and a seed and seedling kit, nourishment packs, and a pH adjuster. All the stages of seedling and plating are consistently described in the manual included. The system is extremely efficient because it also uses 90% less water.
Important Factors to Think About When Choosing a Vertical Garden
Now, when you have found out much about the options for arranging an indoor wall garden, it makes sense to think about the most important factors that can influence your choice of planters and vertical systems. First of all, think about your free time because there are options that do not require much effort and those that need a constant watch. The other factors include the following considerations.
Plant Roots Should Grow Efficiently and Without Any Risks
Many vertical systems do not offer much space for the roots. So, choose the planters that allow for much space for roots to stretch and grow. If the roots do not have this space, they will not receive enough moisture. That is rather harmful because when exposed to some heat or cold, they can go into shock and dry out or, on the contrary, start rotting.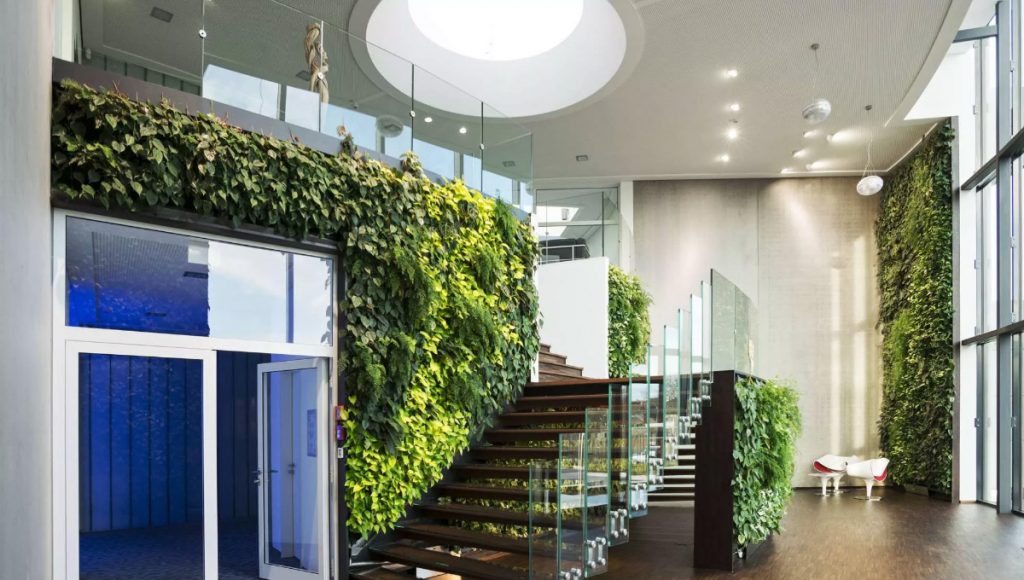 System Assembly Should Not Be Too Complicated
If you do not have an engineering degree, do not opt for too complicated systems. All these battens, frames, screws, and gutters are unlikely to be for you if you are not going to spend ages assembling your living wall. Choosing carefully, you can find some DIY options that will take you little time and effort to assemble.
Think About Disease Prevention
The system that is meant to reuse water circulating it from one plant to another can cause root diseases that will be transferred and multiplied. You will need some extra efforts or even the help of professionals to get rid of those diseases or you will risk losing your plants and having to replace them with new ones. Such an option can turn out to be rather costly. So, if your wall herb garden is supplied with water from one container, read the instructions carefully to understand whether you will be able to prevent diseases.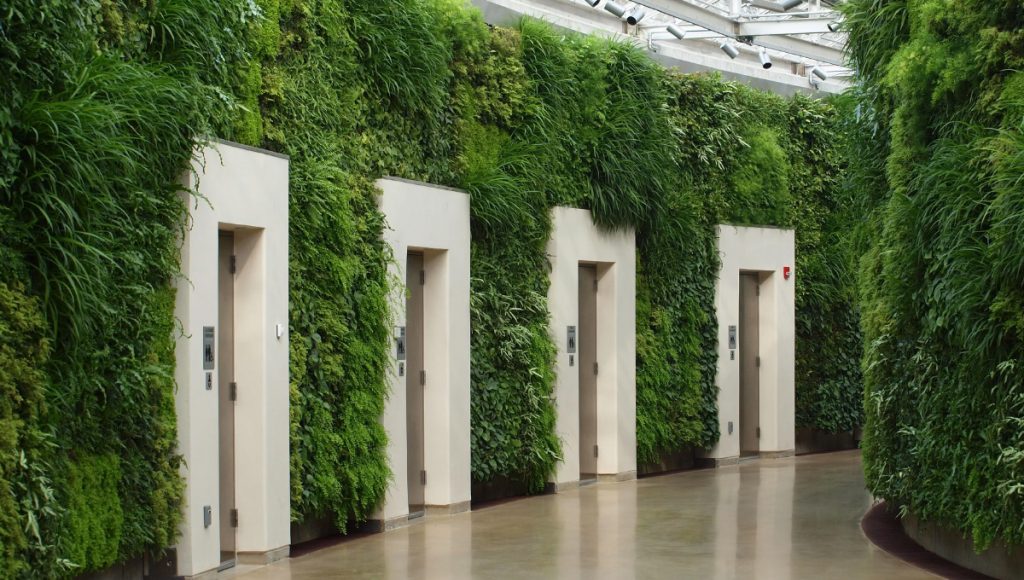 Nourishment Is Essential for Plants
If you are going to install a hydroponic wall garden indoors, think about where your plants are going to get their nutrients. Normally, they are added to water but if you do not know how to use the mix of nutrients correctly or how to keep the right temperatures, you will have either to learn thoroughly how to do it or try to opt for some simpler soil-based planters.
Enough Light Should Always Be Provided
Almost all plants need at least 6 hours of sunlight for thriving and healthy growth. So, if you have decided about a vertical indoor garden, check whether your plants will get constant light within it or you risk damaging the plants. Grow lights should be provided additionally if they are not part of the kit you have chosen.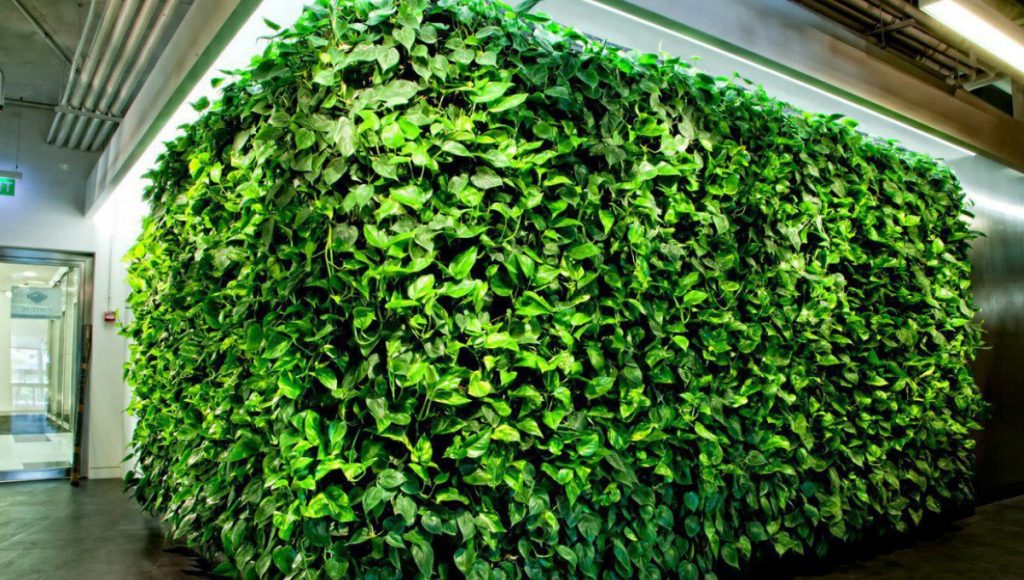 Pluses and Minuses of Automatic Irrigation Systems
Your indoor wall garden should be equipped with an automatic pump or another usable irrigation system. Automatic appliances will need a stable source of electricity and water. If you opt for such a system, think about a backup generator in case of power blackouts. Remember that plants in living walls need more moisture than those grown horizontally. If you don't want to worry about that, opt for a herb wall planter indoor system that is soil-based and uses a dripper technique or can be maintained by hand.
Leakage Risk Is Always Present and Should Be Avoided
You need to examine your wall garden thoroughly quite often to keep it in its optimal shape. When excess moisture seeps through the planter onto the wall, it is trapped by it and you will receive mold growth and rotting.
If you want to feel certain that such things will never happen, look for freestanding vertical systems. If you still need them on the wall, check whether they have airflows at the back. For such gardens, check whether there is an insulation layer between the back of planters and the wall or you will have to install such a layer if it is missing.
Choose Your Plants Correctly
While planning any wall garden indoors, it is essential to choose the plants for it correctly. A vertical system always implies that you will be short of space so you won't be able to take care of big plants. Many planters on the market are offered for certain kinds of plants only. So, if you know for sure which plants to grow indoors, it will be easier for you to opt for an appropriate vertical system.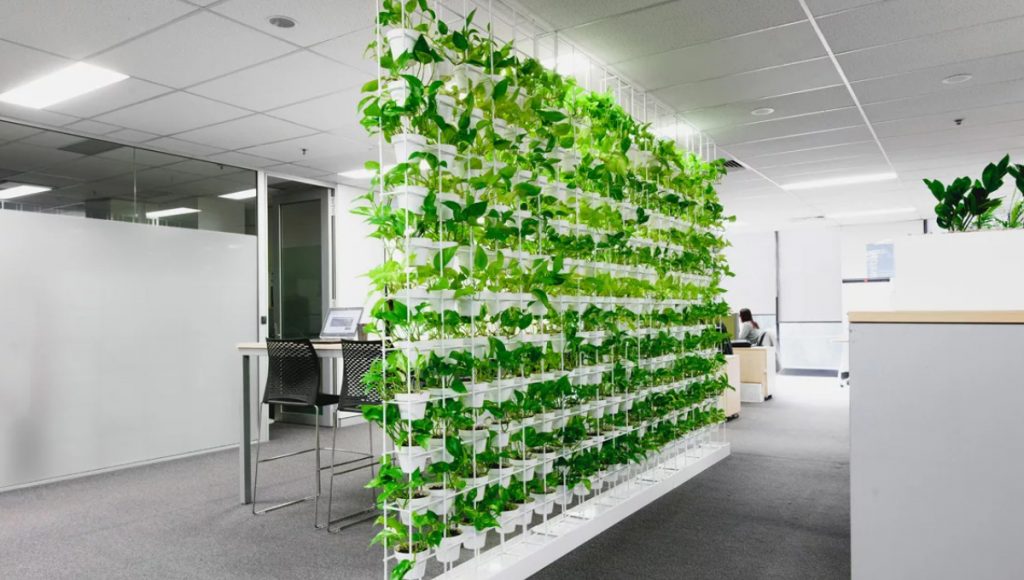 Conclusion
Now, when you have learned much about a wall herb garden indoors, the main ideas, planters, and systems to be used, and some tips on how to use them effectively, you can start implementing your views and desires without any harm to the habitability of your home. The items we have considered here are really great and they can add much value to your costs.
Moreover, you can find some other amazing variants on Amazon.com now when you know for sure what you are looking for. To do that, consider your budget needs, the types of accommodation you would like to locate your indoor wall garden in, and the purpose of such settings. Also, choose the plants you want to grow in your garden and consider the time you will be able to spend on its maintenance. You need to think about your gardening experience as well.
Hopefully, you will be able to use some information from this article to implement your project. If needed, you can read it again to find the points that will become the most beneficial for you.