Succulents look very beautiful when grown indoors. It is quite easy to choose a great variant from this diverse group of plants with thick roots, juicy and colorful leaves, and fat stems. They can look great if planted alone or as a small indoor garden because the colors of their leaves are various and stunning – purple, blue, green, almost black, and even pink or yellow.
Let us consider some ideas for a succulent indoor garden provided and delivered by Amazon.com.
These planters make up perfect vessels for succulents, cacti, and air plants. It is a great decoration for your patio, office, or home. This vertical succulent garden kit is made of ceramic and allows succulents to grow everywhere – on the walls of bathrooms, kitchens, living rooms, balconies, and terraces. The pots are the ideal size and shape for most kinds of succulents and cacti. These triangle planters add a perfect style and color to your walls.
The mounting hardware is included in the kit so you can assemble and install the pots in minutes. The set is also a stunning gift for all gardening lovers. The wall design works very well for keeping plants away from kids and pets. The planters go in black and white colors and their high-fired ceramic material creates the accents on the elegance of your room décor making the room even more spacious. This unique hand-made minimalistic design makes the interior more modern.
This modern planter looks great with succulent plants, mini cacti, air plants, and artificial compositions. It is made of high-quality ceramic with a natural matte finish. Each planter is equipped with a durable faux-leather strap for hanging and metal crews.
The planter has a drainage hole in the bottom which is especially important for growing succulents. The pot is flat on its back so it matches the wall perfectly. Its total height is 17 inches so it allows for growing small plants. When you acquire some planters, you can arrange your vertical succulent garden indoor in the most beautiful and elegant manner.
This succulent starter kit from E-SUPEREGROW allows for growing some succulents or other small plants. The pot is equipped with timer control and LED grow lights. It also has fans providing efficient ventilation. The pot features a special magnet for closing up making the planter safe and suitable for kids. It can be used either at home or in the office.
You can take care of your plants just once per 2 or 3 weeks. The kit can also become a great gift for any occasion.
This set of amazingly looking ceramic succulent planters from Sun-E is a great gift for everyone keen on succulent plants, be it your family or friends. These cheap and easy containers for succulents are made of top-quality clay and processed at high temperatures. There are 4 items in the set made in the shape of seashells. They look stunning with their pearl glaze on the surface. The pots are quite small so they are suitable for a desk, bookshelf, or dining table. They can be located in the living room, kitchen, sitting room, or home office.
The planters are multipurpose because, apart from succulents, they can be used for growing other small plants, or even as pen pots or candle holders. You can locate them individually or as a beautiful collection for the perfect home decoration.
This sturdy and high-quality succulent wall garden kit from Yousun is made of ceramic with a metal plant holder. Such a frame provides durability during transitions and portability due to a lighter weight. The planter is provided with a drainage hole and bamboo tray so that excess water can flow down the soil to keep a plant healthy.
The pot is smart with its flat bottom that allows for placing it either on the wall or on the desktop. This dual purpose makes it quite flexible. The color is white and gold so it can add much elegance to any interior. The planter is perfect for mini cacti, succulents, and air plants. Artificial plants and flowers can also be featured in it.
Some Words about Succulent Plants
If you want to know how to make an indoor succulent garden, learn some facts about these amazing plants. Succulent plants are those that can store water in their stems and leaves. They are not cacti only as we often believe. Many species can be related to this family. Succulents grow in the wilderness, in deserts, on cliffs, in the mountains, and even in the jungles. They mostly cannot withstand freezing temperatures but they can survive in prolonged drought, even for weeks and months. They grow better with the bright light but not when the sun is extremely hot.
The most well-known and popular succulents are a wax plant (Hoya), jade (Crassula), mother-in-law tongue (Sansevieria), century plant (Agave), prickly pear (Opuntia), burn plant (Aloe), zebra plant (Haworthia), and many others. Kalanchoe and Echeveria are also succulents.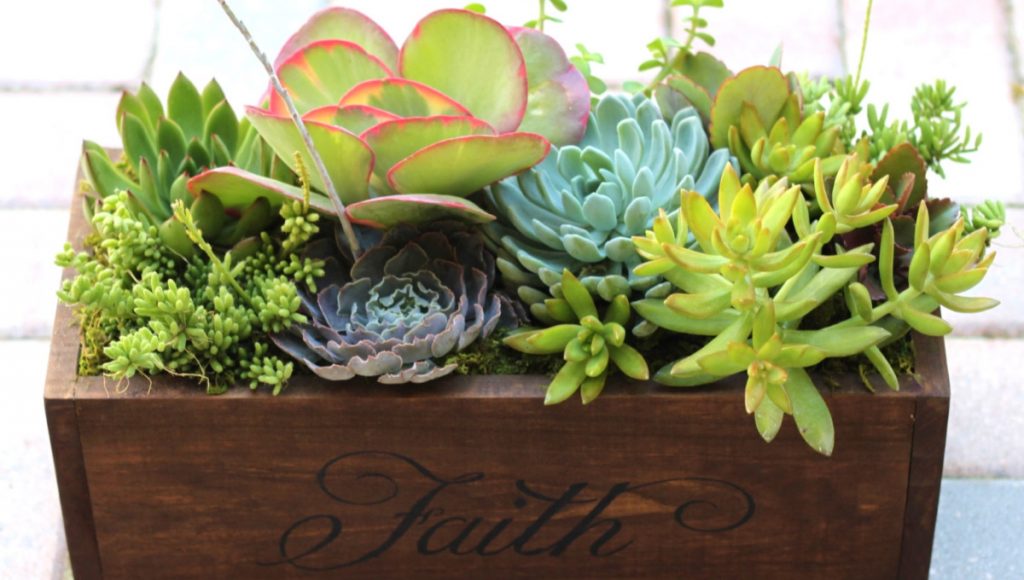 Succulents can live for many years needing just much light, very rare watering, and feeding. They may have problems with sap-sucking insects, such as mealy-bugs or scale. Do not expose them to direct hot sunlight because many succulent species can burn in it.
Succulents can be cultivated from leaf cuttings or just whole leaves. They can be grown as collections, indoors and outdoors, in hanging baskets, wreaths, rock gardens, and vertical gardens, so the indoor succulent garden ideas are infinite.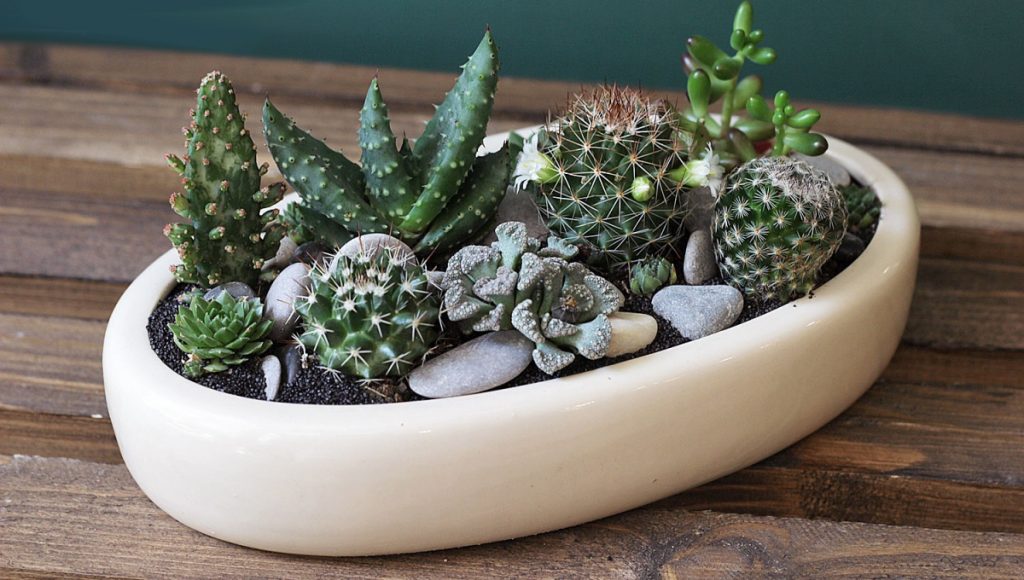 Some Advice on the Best Pots for Succulents
A proper pot for succulents should be convenient in use and favorable for your plants to grow, thrive, and bloom. Let us regard some factors that you will need to consider while choosing the planter.
Size
The appropriate size of succulent pots is very important because, if the planter is too small, the succulent's roots will not have enough place to grow and stay healthy. If the planter is too big, all that will grow will be roots only. They are very delicate and fragile so, when spread around the pot, they will be damaged and your succulent can die. The correct size of the pot means that it is just 5-10% bigger than a plant. Not much extra room around the edges is needed either – just leave about 1-2 inches and that will be OK.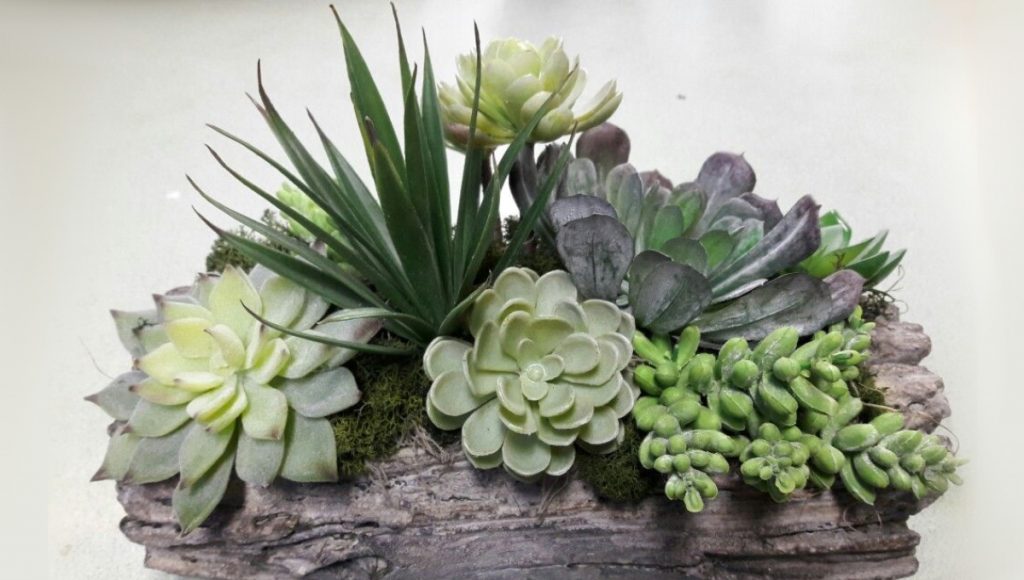 Design
When someone mentions the word 'design', you imagine that the planter should meet your room's requirements and décor. However, the physical characteristics of the plant matter for succulent garden designs first of all. When the succulent grows upright, such as, for example, aloe, it needs a tall and deep pot. If you want to grow a low plant, such as Echeveria, short planters will look and function best. When you want a String of Pearls plant growing as a spiller, you'd better use a hanging planter that is not too deep.
Drainage
Succulents do not like much water. The pots should have appropriate drainage because if the excess water stays at the bottom, the roots may start rotting. So, look for planters with drainage holes. If a planter does not have these bottom holes, you can still grow succulents in it but only if you are careful enough about watering or if you drill a hole yourself.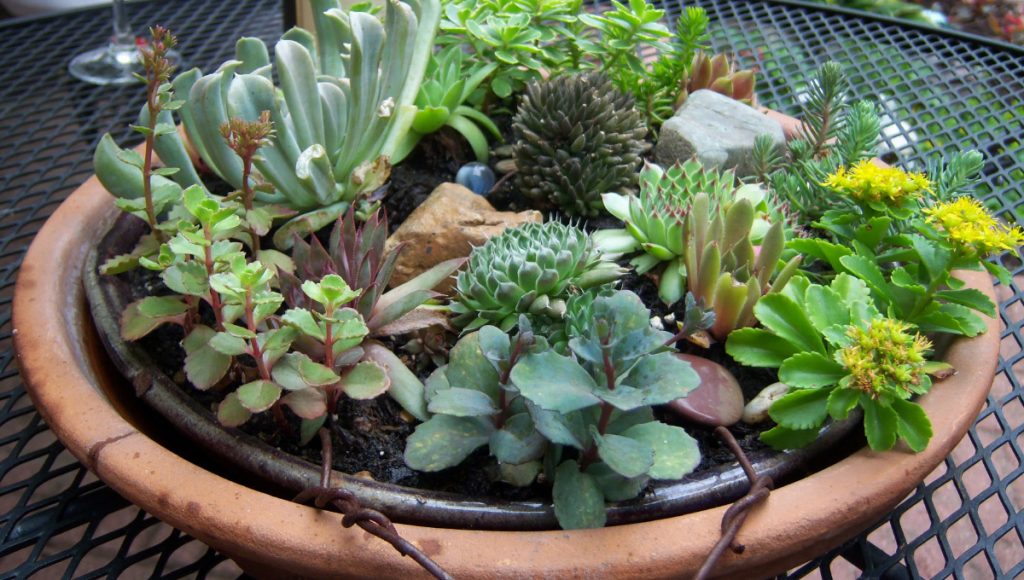 Material
Pots can be made of different kinds of materials – ceramic, plastic, wood, terracotta, resin, or metal. However, the planters made of ceramic or terracotta are the best ones for succulents. These materials are breathable and it is very important for airflow and drainage.
You may also choose planters made of plastic or resin, especially, if a succulent is big. These materials are lighter and you can move such pots easily from place to place if needed.
Conclusion
Looking for the best planters for succulents, remember that a drainage hole at the bottom is a must to be sure that your plants are not overwatered. Indoor succulent gardens can be arranged horizontally, vertically, as green walls, or settled as individual plants. Choose the types of plants and pots for them carefully following the tips from this article and some expert recommendations.
In fact, growing succulents at home is not too difficult if you consider all the peculiarities, characteristics, and needs of these plants. Your succulent garden design will depend on your preferences and the interior space of your dwelling.