A garden that is full of plants falling to the ground and flowers dragging their heads in the mud, or dirty fruits scattered here and there does not make a pleasant view. That is the case when you need garden stakes to support your plants. And there may be some different reasons why your plants need stakes. For example, the fruits or flowers produced by the plant are too large and heavy so the stem cannot withstand this load and bends down. Very often, plants grow too tall to keep straight, especially, if you live in an area with strong winds and storms.
Some plants simply cannot grow without support. These plants include cucumbers, tomatoes, peas and beans, peppers, blackberries, pumpkins, melons, and gourds. Some perennial flowers need staking, too.
You can make the stakes on your own out of things lying uselessly around your house, find some proper items at the nearest garden center, or just order them online.
Here, we have collected some high-quality products from Amazon.com you can opt for and let your plants grow with efficient support.
These Hydrofarm bamboo garden stakes are great at supporting the growth and development of young plants. There are 25 items in one package. They are 2 ft long and very straight and durable. The stakes do not interfere with normal plant growth by damaging the roots. They are just flexible and sturdy at the same time to provide natural growing conditions.
The price of these stakes is lower than that of stakes made from metal or wood. Their use is quite versatile – you can also utilize them as markers, supports of garden covers, or for indoor potted plants. The stakes are lightweight, eco-friendly, and safe, with a smart and attractive finish, free from chemicals and dangerous substances.
These plastic-coated steel stakes go in a pack of 30 items. They are rust-resistant, sturdy, and durable. Their lifespan is much longer than that of bamboo or wood stakes. The garden stakes are 1/3 inches in diameter featuring a length of 2.5 feet. They work best for supporting such plants as eggplant, tomatoes, pole beans, young trees, shrubs, grapevines, and cucumbers.
The stakes can also be used for building teepees and trellises for climbing plants. The items have ridged surfaces which work very well for training plants and supporting them reliably. The end is tapered so it is easier to insert the stake into the ground. These high-quality products help plants grow better and produce richer yields.
The pack of garden stakes from LEOBRO contains 4 items made of steel with eco-friendly plastic coating. They are hard to bend, rust-resistant, reusable, firm, and durable. The stakes can withstand any weather conditions.
The items are very functional. They are 40 cm (15.75 inches) long and have a support ring of about 5.8 cm with an open spot of around 1.3 cm. They look very attractive and aesthetically appealing with their green color and graceful line of a ring. They are almost invisible in the garden. The plant stem is put into the ring for support without many touches. It is especially important for fragile plants that do not experience any restrictions on growth.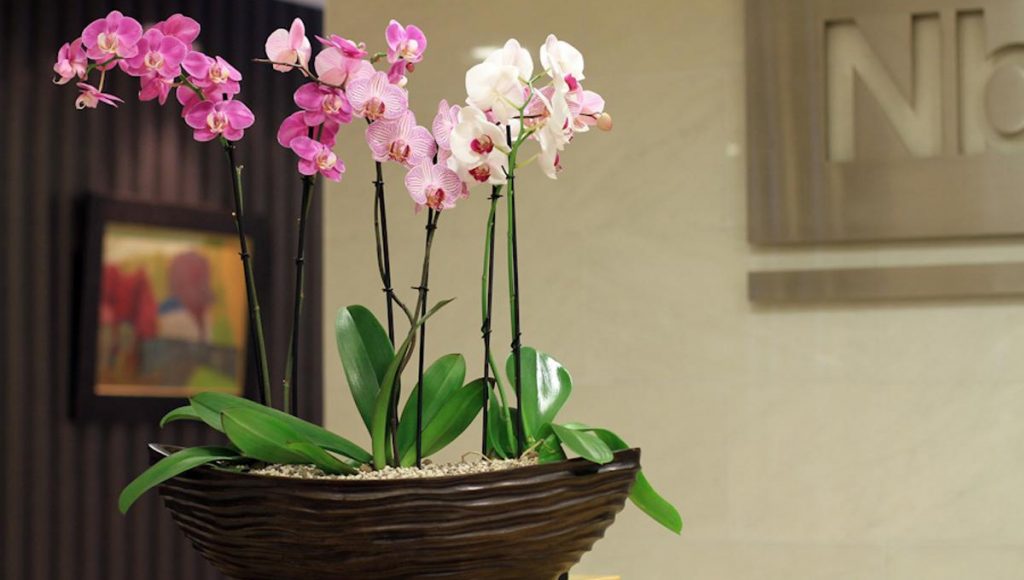 These garden stakes are great for most plants and flowers with small stems, such as lilies, zinnias, roses, sunflowers, peonies, tomatoes, and even young trees. They grow healthily and straightly without entangling with each other. The stakes help save place, are lightweight, and easy to store and carry.
The stakes could have a bigger circle at the top to make slipping the plant inside easier.
This set of 6 plant stakes with a lot of accessories from LadyRosian will help you let your plants grow in the direction you would like them to. Apart from the stakes, the set includes 10 plant labels, 10 large and 10 small plant clips, 30 twist clips, and 30 plant wrap ties. Such a kit is very convenient in use. These metal stakes provide climbing plants with efficient support and you can help them grow straight upwards without intruding on their natural growth.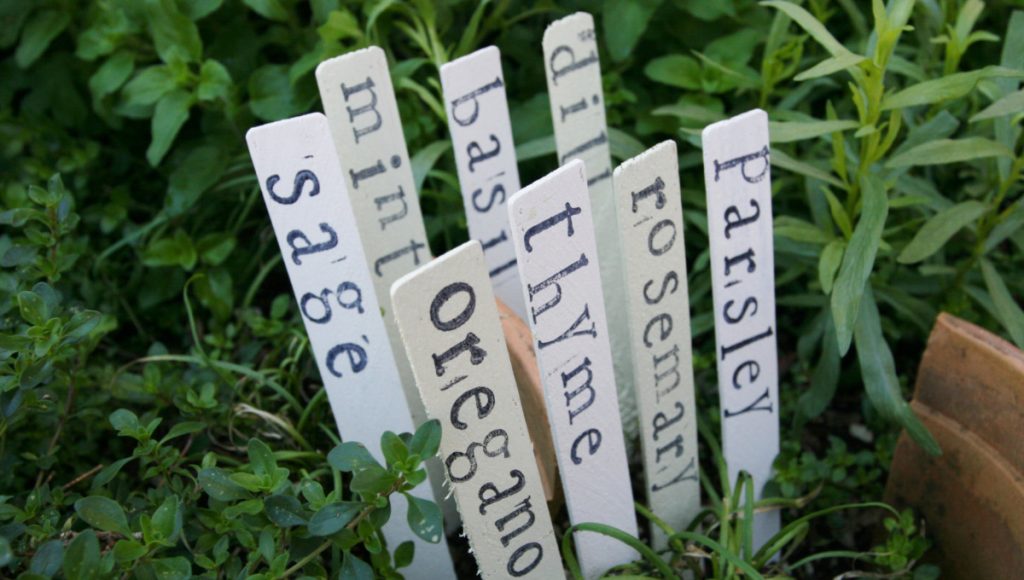 The iron stakes are coated with PVC that helps them withstand any unfavorable weather conditions. They are rust-resistant and long-lasting for many seasons. The items work well for fragile plants keeping them in place during heavy rains and strong winds. They are 13.8 inches high and 8.3 inches in the diameter of their semi-circle. That makes them work great for tall plants and vines. You can use them for supporting cacti, lilies, salvias, morning glories, crocosmias, cucumbers, hoyas, tomatoes, philodendrons, and many other plants.
The garden stakes are easy to use with their accessories so they work well for professional and amateur gardeners, as well as for beginners.
These sturdy garden stakes are made of high-quality steel and coated with rust-proof and waterproof plastic. The green paint matches any gardening environment and is very sturdy – it does not come off and make your hands dirty when watered.
The pack contains 25 items that are three-feet long and 0.43 inches in diameter. One side is sharpened for an easier installation. The other side is flat to prevent hand scratching while taking care of the plants. The stakes have spurs on them to secure plants better and prevent slipping.
The stakes work well for supporting growing plants and trees. They can also be used for tomatoes, eggplants, pole beans as well as for making trellises and teepees for any climbing plants. They are perfect for both indoor and outdoor use.
Buyer's Guide: How to Acquire and Use Garden Stakes Correctly
The tips provided in this part are likely to be useful for both experienced gardeners and beginners.
What to Consider While Buying
There are some factors to consider when you are going to buy garden stakes. Here, we have compiled some of them. Thinking about these important things will make your choice easier.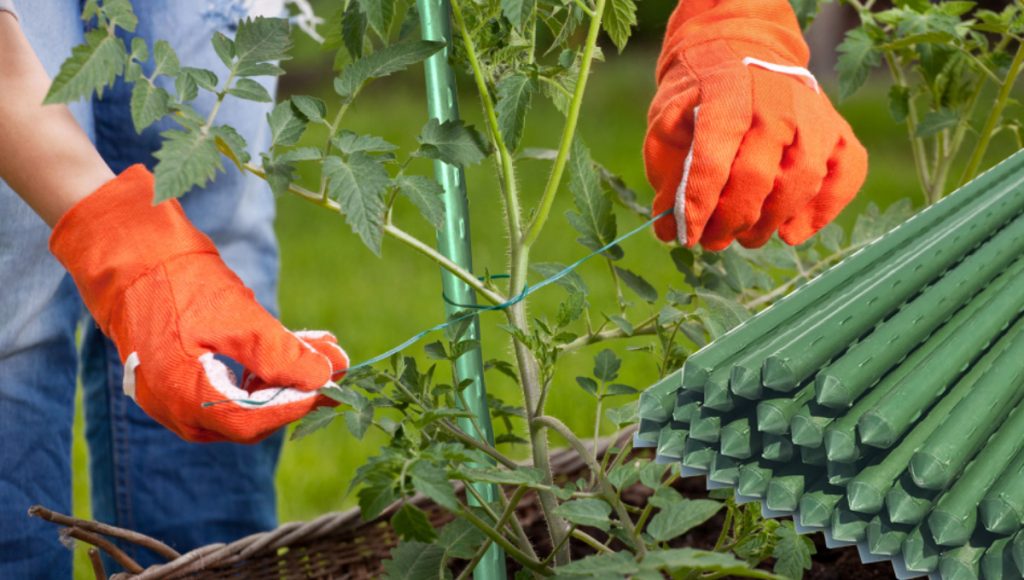 Material
The most common materials for garden stakes are wood, bamboo, plastic, and metal. Just make sure that the product does not contain any toxic substances. Any stakes treated with chemicals can become your subject of concern.
Wood is a great material but it cannot resist severe weather conditions and humidity. The same can be said about bamboo. You had better use such stakes indoors. As for metal and plastic stakes, they are waterproof and rust-resistant. Moreover, they are quite durable so they are perfect for using outdoors.
Height
Everything depends on the kind of plants you are going to support. If you grow tomatoes, cucumbers, or eggplants, your stakes can be of medium height. When you want them for your pole beans or grapevines, opt for more height. The same concerns outdoor and indoor options. Indoor plants will not grow as high as outdoor ones, so you can choose the stakes of smaller sizes.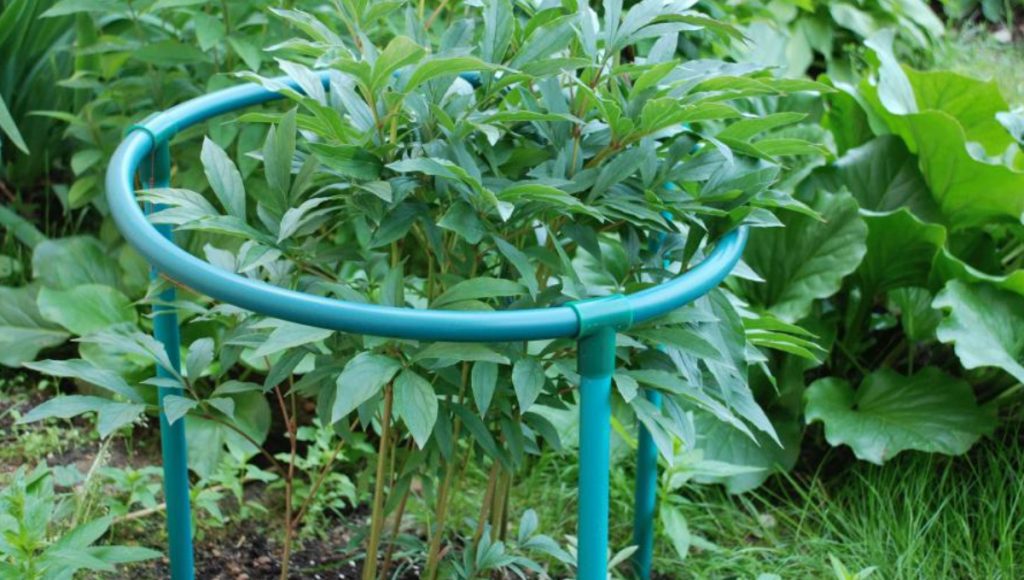 Durability
This depends on the material and the diameter of garden stakes. If you do need a durable and long-lasting product, look for the stakes that are wider in diameter and, preferably, not hollow inside.
Brand and Store Reputation
To get a high-quality product that will last for many seasons, think about a reputable manufacturer of gardening tools and supplies but not about the random choice. The store you order your stakes from, no matter whether it is your local gardening center or an online shop, should also be reputable and reliable. Consider the warranties provided, the time for delivery, and refund policies. Also, you may read the comments and reviews from real customers.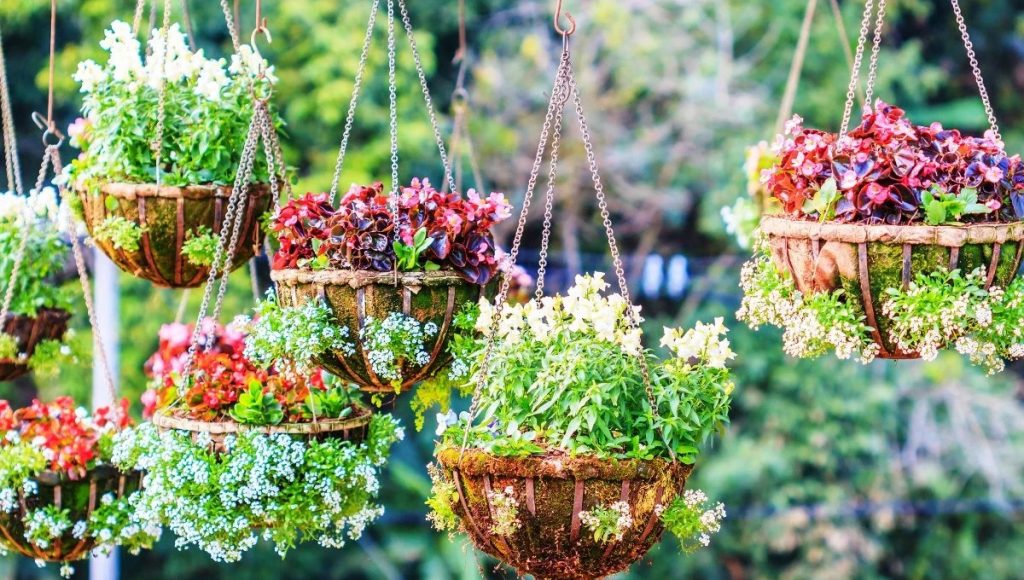 Price
Remember that garden stakes make up the product that will not last forever. It means that you will not have to spend a fortune on them. To get reliable and durable items, it makes sense to search for them on different sites and stores. Sometimes, the price tags for the same product may differ sufficiently from one place to another.
Why You May Need to Use Garden Stakes
You need to know that garden stakes can be used for some purposes in the garden. They are meant to make the process easier and more efficient. Let us consider the most common uses.
Support for Plants
Some plants cannot grow and thrive without support. Their stems are so long and thin that they begin to fall, especially, when overloaded with fruits. Such plants as pole beans and peas should be supported for sure to prevent damage. Some other species, such as squash or cucumbers can occupy much space when they grow horizontally. If you have a small yard, you need to help them grow vertically for the sake of space-saving. As for tomatoes, their fruits grow too heavy and their stems cannot withstand that load without support.
If you live in a windy or stormy area, supporting all the plants in your garden is essential.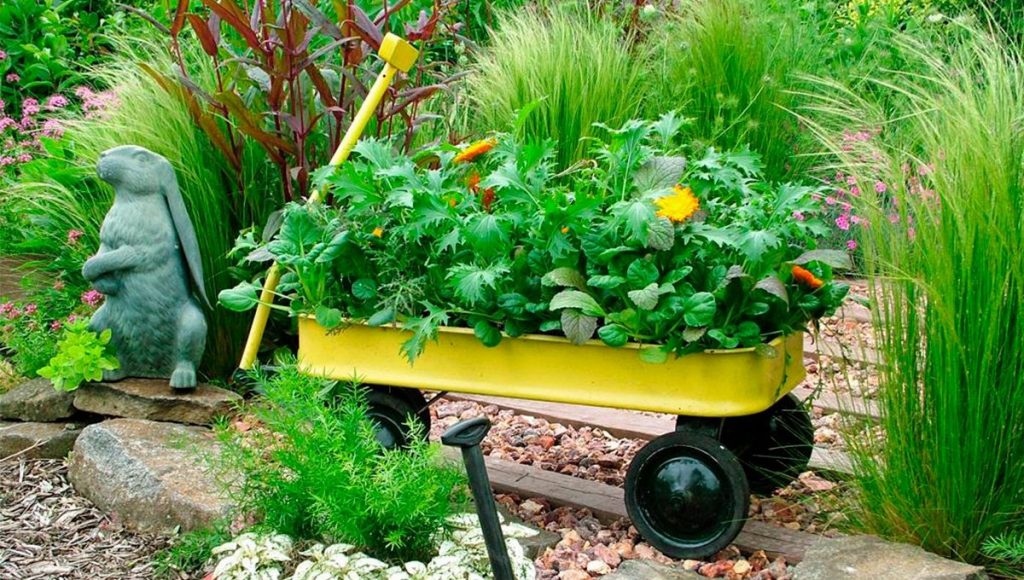 Plant Protection
You can also use garden stakes to protect your plants against birds or animals. For example, birds admire blueberry bushes when their berries start ripening. Rabbits, deer, and foxes can damage other plants. You can build some kind of fence using stakes. They are durable enough to keep the animals away. You can also arrange some netting on the stakes or just affix some 'scarecrows' on them. Only remember to move these scarecrows constantly because birds and animals get used to them in a while.
Separating the Rows of Plants
You can keep track of every kind of plant that grows in your garden with the help of stakes. Insert stakes and make a path between the rows with your feet when you plant the garden. You can also mark the row or a part of it with a certain variety of plants. You will be able to see where one plant ends and another starts. You can also arrange a sign of some kind on the stake.
Conclusion
Now, you know much about garden stakes, how to choose and use them, and what kind of stakes to opt for according to your specific needs. You may also have some other creative ideas about how to use garden stakes or how to make them on your own.
We hope the article was helpful and you have already chosen the best stakes for your plants on Amazon.com. Or you may prefer to acquire them from your local brick-and-mortar gardening center. Make sure that the manufacturer and supplier of your stakes are reliable enough. Your plants will get many benefits when you use these items correctly and get them from reliable providers.