You can grow your plants both outdoors and indoors in special garden beds or boxes. You can purchase the item you need from Amazon.com or other reputable online or brick-and-mortar household shops, or make it on your own.
Garden beds come in many sizes and shapes and it's up to you to choose one depending on your space and needs. You can opt for either long or short boxes, affixed to the wall, set on the floor, or raised on legs. You may want to place it on the windowsill or any vacant surface where there is enough sunlight. Or you may just buy extra artificial grow lights.
Garden beds have many advantages in use you need to consider. Think about water, soil, and fertilization, and your plants will grow perfectly well in the confined spaces of your urban environment, on the balconies, patios, verandahs, and terraces, or just on the countertops and windowsills.
Here, we have compiled some best products from Amazon.com you may want to acquire for your home gardening.
Meet the conveniently raised bed gardening planter which works perfectly for homeowners with limited spaces. It is equipped with four swivel casters so you can move it easily from place to place for more light and convenience. The system is self-watering and works automatically. It has a 2-gallon water reservoir and the needed moisture is wicked from there. It prevents overwatering with its water overflow holes. Plants grow on an aeration screen that supplies oxygen to their roots enhancing growth.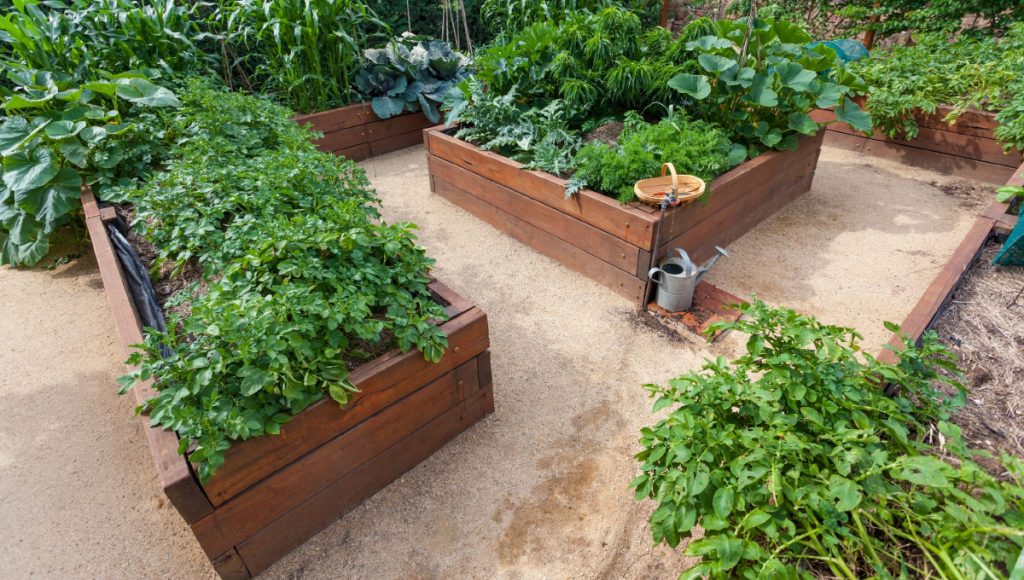 The garden bed is easy to use for beginners to grow plants and vegetables in very small spaces, for example, on rooftops, verandahs, and fire escapes. The item provides a self-contained soil system that prevents pests and diseases. The 30-inch height allows for taking care of plants while standing so it can be used by elderly people and those who use wheelchairs. The product is made of BPA-free polyethylene plastic which does not emit chemicals or toxins and is safe for health.
The plastic raised garden bed is also equipped with a storage grid below to keep all the gardening tools and supplies conveniently.
This set of 4 plastic raised garden beds from Reliancer allows for both indoor and outdoor gardening. It is ideal for patios, balconies, rooftops, backyards, and other confined environments. The planters are made of UV-protected polyethylene plastic with high density imitating the rattan pattern. It is completely safe for growing vegetables and herbs for food and a healthy lifestyle. Each planter is very easy to assemble and disassemble.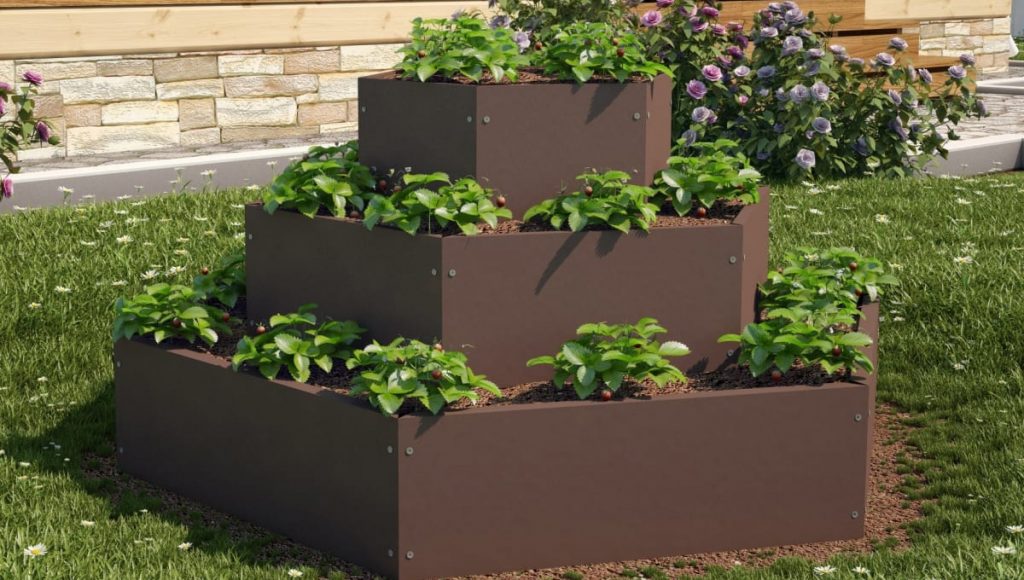 The planters represent an efficient self-watering system with a special disk and drainage holes. The extra space is provided for excess water so the roots can aerate and avoid rotting or over-drying. The drainage holes are located on the sides of the planters. Two water plugs are helping to regulate the excess water running off manually and two water plugs for the loss of water prevention.
You can combine the beds in the way you would prefer making one layer of 2 or 4 of them or two layers for deep-rooted plants. The height of each planter is 14.2 inches so it is very convenient to be used by elderly people who need to reduce the overload for their knees and back. It is also helpful for protection against pests and infections coming from the ground when located outdoors.
This rectangular metal raised garden bed for indoor and outdoor use is developed for small spaces. It can become an ideal solution for outdoor decks, balconies, hallways, patios, and sunrooms fitting perfectly the design and bringing its appealing green color to the complete match with other furniture.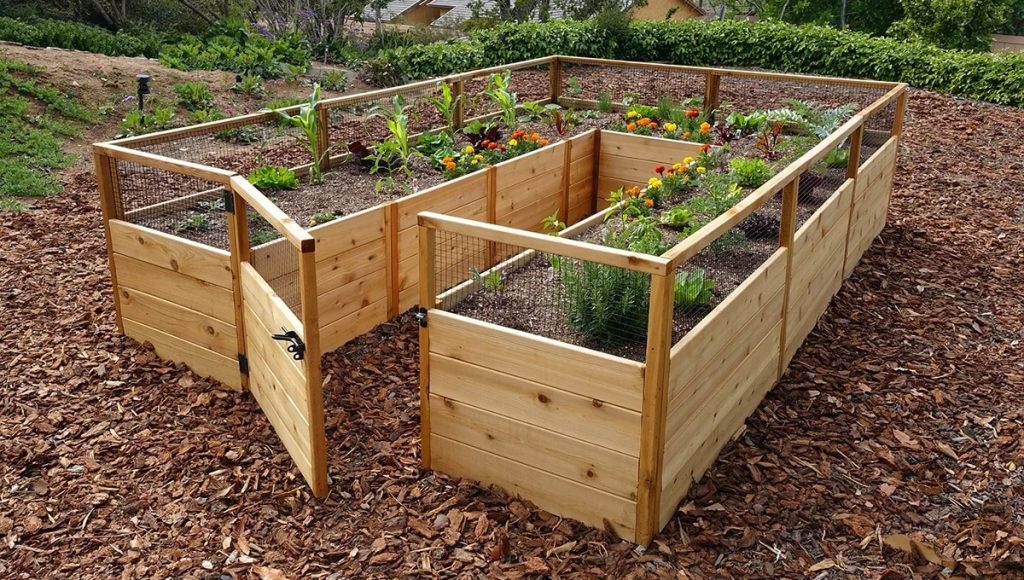 The planter is made of powder-coated steel for better wear and durability. It is rust-resistant and sturdy. Its 28.5-inch height allows for avoiding back pain and the need for bending any time you want to take care of your plants.
The bed is very easy to assemble and maintain. It has two layers that are put together and display the top planter box and a lower shelf for any gardening equipment or small potted plants.
This movable garden bed with two wheels for convenience is made of high-quality iron and painted blue. The frame is quite sturdy with a high loading capacity. The material is rust and corruption-resistant and very durable. The height of the item is 96 cm and it consists of two parts – a growing platform and a lower shelf for tools, seeds, and fertilizers.
You can use this metal raised garden bed both outdoors and indoors or just move it outside for more sunlight and inside when the weather is getting worse. The bed can be used for potted flowers and plants as well as for growing herbs, salad greens, and vegetables. The space of the planter is enough for growing different kinds of plants and vegetables at the same time.
This is a great versatile garden bed for both indoor and outdoor use all year round. It is easy to assemble according to clear instructions. The planter is perfect for urban spaces and can be used as an indoor vegetable garden, patio or balcony planter, or outdoor herb garden.
The appliance is made of polypropylene resin and designed in a rattan pattern which matches perfectly any patio furniture design. The garden bed is very durable and can be used for many seasons.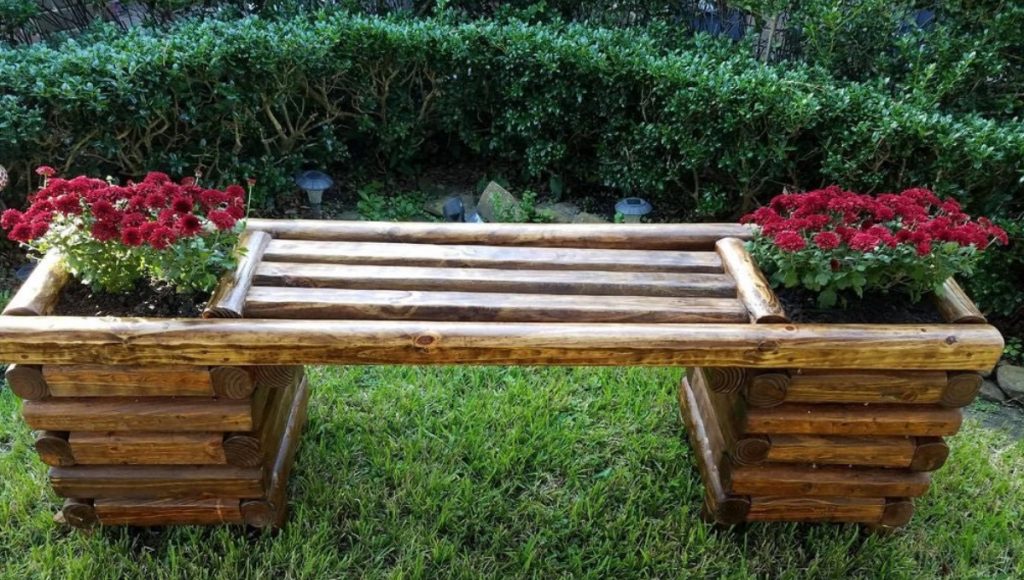 The total capacity of the planter is 31.7 gallons so many different kinds of houseplants, vegetables, flowers, and herbs can be grown simultaneously. Elderly gardeners can use the planter easily because its ergonomic design does not require any bending.
The plastic raised garden bed is equipped with a full watering system that consists of a reservoir and a water gauge. The reservoir helps prevent root rotting and overwatering while you can always see when to water the plants owing to the gauge that changes colors: it goes red when there is a need for draining or green when you have to water the plants. You can remove the excess water by hand with the help of a drainage tap.
Buyer's Guide: What Factors to Consider Shopping for a Raised Garden Bed
With a lot of raised garden bed options on the market, you can get lost and hesitate to choose the right bed for your plants and conditions. Here are some important factors to take into account when choosing a garden bed considerately.
Mobility
Mobility is a great advantage of garden beds used indoors or outdoors. That is why many kits go with wheels. If your environment requires moving plants from one place to another or your conditions allow for it, choose the self-contained beds with wheels that can be moved easily.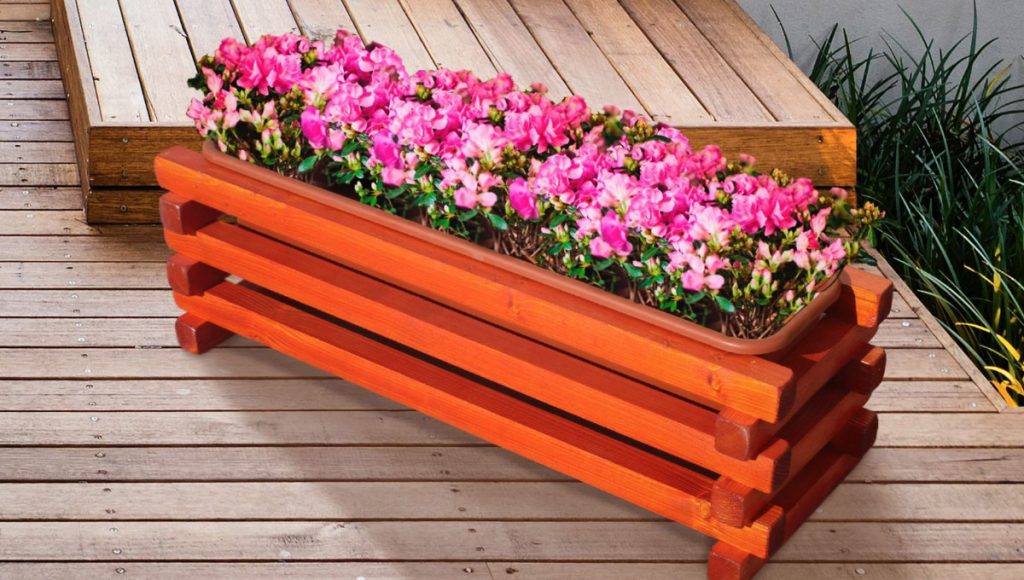 Walls
Be careful about the type of a raised bed you need. Some planters are just open-bottomed frames that are meant for holding the soil in your outdoor space. They go without a bottom so they cannot be used indoors. Opt for a self-contained indoor garden bed with a bottom and high walls to avoid a mess when you locate your garden on the balcony, patio, verandah, or some other enclosed space.
Materials
Materials used for a raised garden bed matter very much for its longevity. Wood-based gardening systems may get rotten and fall apart very quickly. If you do prefer wooden beds, check whether they are made of rot-resistant wood (e.g. cedar) but not treated with harmful chemicals. If you want your gardening system to last for many years, opt for plastic or metal items. However, plastic raised garden beds should be UV-resistant. If not, plastic will brittle while exposed to sun rays. Metal items should be rust-resistant because they often contact with moisture.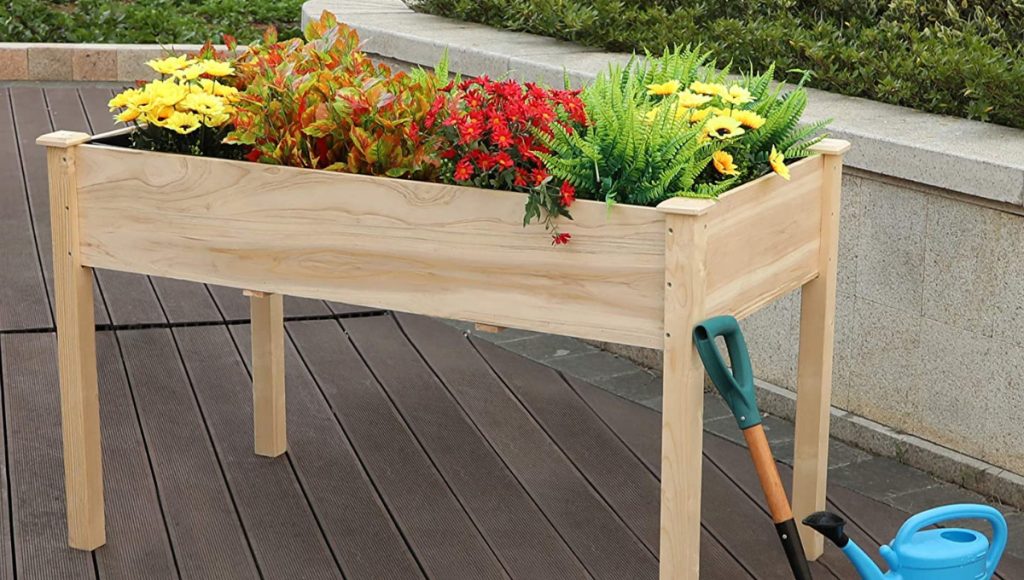 Height
A variety of raised beds differ in height which may start from 6 inches. Consider what kind of plants you are going to grow. The more depth you acquire, the better your plant roots will feel. More soil also means more moisture so deeper beds will not require frequent watering. However, keep in mind that deeper planters need more soil so they are heavier and not so easy to move.
Number of Planters
If you do not have much space and time for gardening, start with just one garden bed. It will allow you to grow the herbs and veggies you need most of all. If you are going to grow lots of fresh vegetables for your dinner table and your space is not so restricted, you may acquire at least three or four planters to satisfy all your needs.
The factors of drainage holes, shape, brand, and price of a raised bed also matter, so do not forget about them when making your choice.
Conclusion
In short, raised garden beds have a lot of benefits as you can see. If you are short of space for gardening either indoors or outdoors, choose a garden box to grow greens and vegetables you would like to have on your table. You can do it either seasonally or all year round.
Choose the right indoor garden bed and you will be able to grow houseplants and flowers as well. Your item should be versatile and movable, though, so that you could use it both outdoors and indoors depending on the conditions. It should also be durable and sturdy to last for many seasons.
You can purchase such a garden bed in your local household or gardening store or order it on Amazon.com, or some other reliable website.
Raised gardening is a great thing to try, so do not hesitate to opt for it if you are an urban resident or a person who is keen on gardening in any environment.