Growing greens and veggies in the indoor garden is a good thing for many people who want them fresh and organic on their table. Hydroponic kits are a great idea, especially, for those who know just a little about gardening.
However, there is a lot of information on hydroponic indoor gardening and a variety of options on the market. An average gardening beginner can easily get lost in all these terms and product variations. To help your fast start, we compiled the set of the best hydroponics starter kits and tips on how to choose and use them to grow plants indoors easily and efficiently.
The Best Hydroponic Starter Kits for Indoor Use
To make your choice easier, here are some best hydroponic kits for you to find on Amazon.com and use for your complete delight and satisfaction.
This easy-to-use PowerGrow Systems Bucket Kit will allow you to grow your plants with just a little effort. The kit includes everything that you may need for the successful growth of plants – an air pump, air tubing, an air-stone, a growing medium, and rock-wool cubes and plugs for sprouting seeds. It is also equipped with a bucket drain and a water level indicator in blue color. The kit features a 5-gallon bucket and a 6-inch bucket lid.
If you are looking for some inexpensive hydroponic system that can be used in your home greenhouse, a grow tent, or on the patio or balcony, here is the right choice. The kit has a 1-year warranty from the manufacturer.
This easy-to-use hydroponics kit is equipped with energy-efficient LEDs. Following the instructions, just drop the seeds into the included plant pods. Then, fill the reservoir with water and plug in the self-watering appliance. You can choose from over 50 pre-seeded plant pods to grow lavender, thyme, chili peppers, wild strawberries, cilantro, and whatnot.
The appliance takes care of plants automatically making sure that they have enough nutrients, water, and light. It is perfect for use on the kitchen counter, in the living room, or on any window-sill. No harmful pesticides and other chemical substances are used. The product aims to combine functionality and a great design.
Consider this growing kit for the start. It contains everything you need to grow your hydroponics herbs and veggies including a powerful air pump, rock-wool, a medium-sized DWC bucket, an air-stone, a tube, clay pebble, a water indicator, and instructions. Plants are growing big very fast here. The roots get enough nourishment without soil. The system is great for starters and kids doing their projects in class.
The kit will also help busy people to make their lives healthier. The air-stone is quite reliable to fully oxygenate the water. The growth is 3-5 times faster than in soil.
Growing in nutrient-enriched water is much faster than in soil. This growing system has proven it most efficiently. The water circulation ensures the increase of oxygen in water. The system is equipped with 24-Watt LED lights simulating the sunshine spectrum. It can be used in the kitchen, office, or even in the bedroom. It can have an educational value for kids because they can observe the growing process.
There are three smart modes for different stages of growth. The appliance is also equipped with a water pump with 2 modes that can be switched. The hydroponics kit is easily adjustable, for example, you can adjust the height of grow lights. 7 pods are included so you can grow 7 different plants simultaneously.
This Growing System is great for indoor use. It is easy to utilize and maintain, very convenient with its built-in pump and the indicator of water level. It can be powered either by a power adaptor or solar panel and it has a smart control for the pump's working time. The hydroponics planter kit is great for beginners because all the growth processes do not need much control. The unit comes with a climbing trellis so you do not need to buy any extra.
You can grow almost everything indoors, for example, peppers, cucumbers, tomatoes, melons, eggplants, or even beans. The kit can be used by children, adults, and elderly people anywhere indoors – in kitchens, grow tents, small greenhouses, offices, hotels, and restaurants, on balconies, and roofs.
This hydroponics starter kit is a great solution for those who want to grow their herbs and veggies in their homes. The kit consists of a plastic box, a buoy deck, a buoy, 6 planting baskets and planting sponges, 6 net pots, one air pump with a check valve, a silicone hose, tweezers, and an air-stone. The item is also provided with the manual. It is great for people who like organic food and are striving for healthy lifestyles. 6 plants can be grown simultaneously. The appliance is very easy to clean and maintain.
How to Choose and Deal with Hydroponics Kits: Buyer's Guide
You are sure to need more knowledge about what hydroponics kits for indoor farming are and how to choose the correct product for your needs. Here are some answers to the most frequently asked questions and some tips.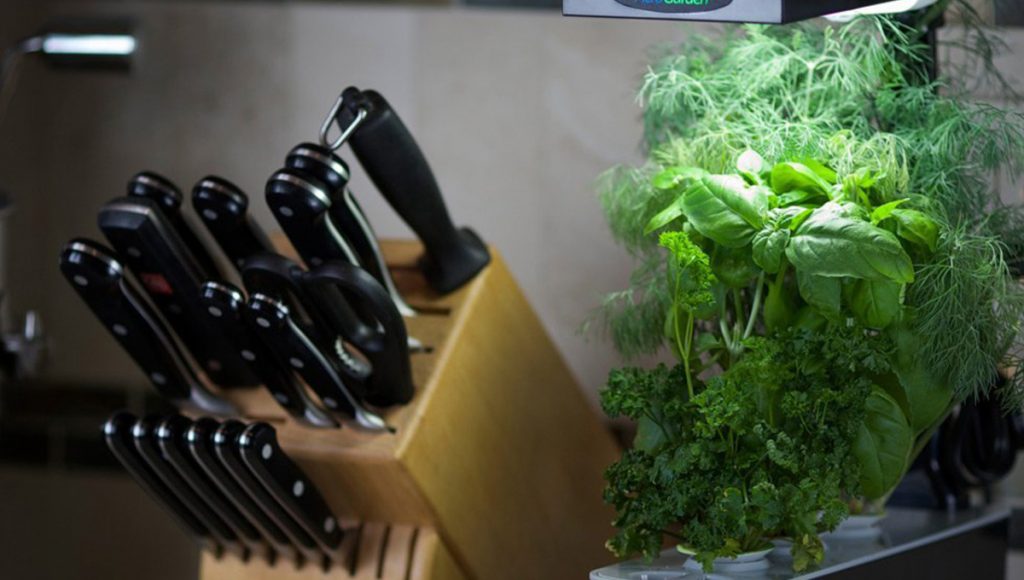 What About Hydroponics for Your House?
The meaning of the word 'hydroponics' is 'water gardening'. Plants are grown without soil and water provides all the nutrients to them. The water is rich in nutrients so plants do not have to search for them in the soil so they grow faster and produce richer crops.
Plants, however, will need some support so it is provided by peat moss, vermiculite, perlite, clay pellets (Hydroton), or rock-wool. The roots at the base of the stem are fixed in these materials so that plants could stay upright.
Another thing needed by the roots is oxygen. It prevents various fungal infections and root rot. Most indoor hydroponics use pumps. They circulate the water and oxygenate it as well as stir the nutrients up.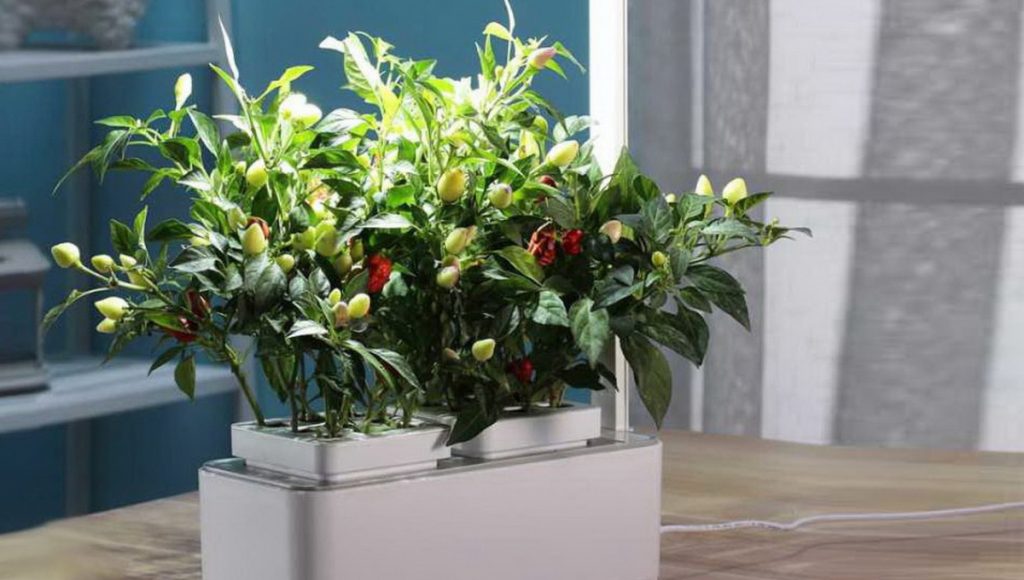 What Are the Most Popular Types of Hydroponic Systems?
You may feel confused while trying to find the right hydroponic system for the start. There are the main types of such systems for your better choice.
Deep Water Culture
This hydroponic system is very simple. The roots of plants grow in a reservoir and there they use the nutrient-rich water immediately. The reservoir contains an air-stone where the air pump is connected. The air bubbles are introduced to the solution and enrich it with oxygen. Many water-loving plants, such as herbs or lettuce, grow perfectly well in such systems. Medicinal plants and larger crops can also be successfully supported by it. The system does not work great for the plants that do not need much moisture.
Deep water culture kits do not use much energy because they mostly use the air pump. They also need less maintenance because there are no water pumps or drip lines here to be clogged.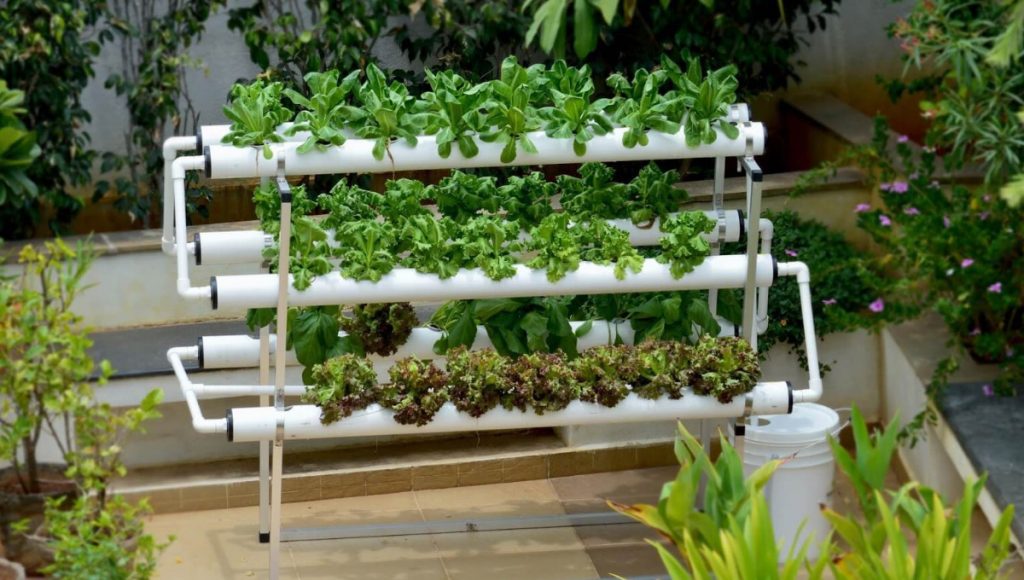 Hydroponic Drip Systems
Such systems use a low-power pump which is connected to the timer to supply plant roots with nutrients at certain intervals. These hydroponics planters are most commonly used. The water is supplied through a drip line and, if there is some excess water, it goes back to the container and is reused. The advantages of such a system are saving water and delivery of nutrients in equal amounts. A more powerful pump can support a larger number of plants. However, a drip line can occasionally get clogged so you will need to maintain it quite often. Pumps usually use electricity to work so that can be costlier if you need to use a more powerful appliance for more plants.
Ebb and Flow
Such systems have some specific features and they can be used only in bigger hydroponic setups. The main principle of their work is pumping up large amounts of water into the growing appliance and letting the remains of the solution slowly drain back into the container. The timer is used to control this cycle. It turns the pump on and off at some preset intervals enough for filling a growing tray with water. When the pump turns off, the remaining water gets back to the reservoir.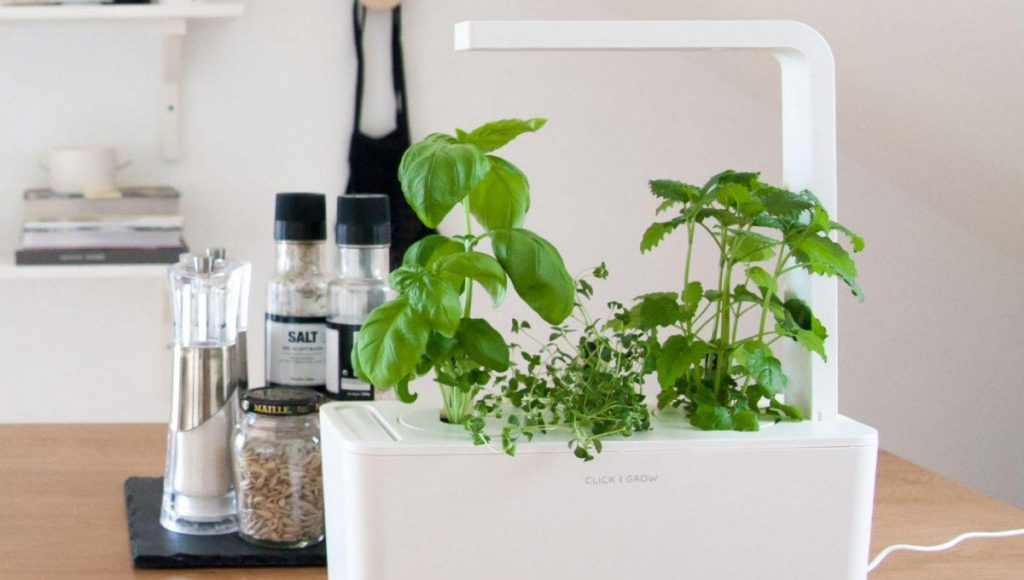 Such systems demand some adjustment to set the flooding and draining cycles correctly. When the plants grow bigger, the adjustment should be repeated since they require more water and nutrients. Using such a system can be risky when you are planning to be absent for some time because the pump may fail or get clogged.
Hydroponic Wick System
Such systems are great for the areas where the pump cannot be plugged in, for example, window-sills. The system works passively meaning that only capillary action is used to transport nutrients and water to plants. The simple wick is used to draw the nutrient solution up to the plant. The materials like coconut fiber, vermiculite, or perlite are used here to retain moisture. These hydroponics kits are the simplest ones to run and maintain. The weak point is that only small amounts of water can move up so only small-size herbs and plants can be grown in this way.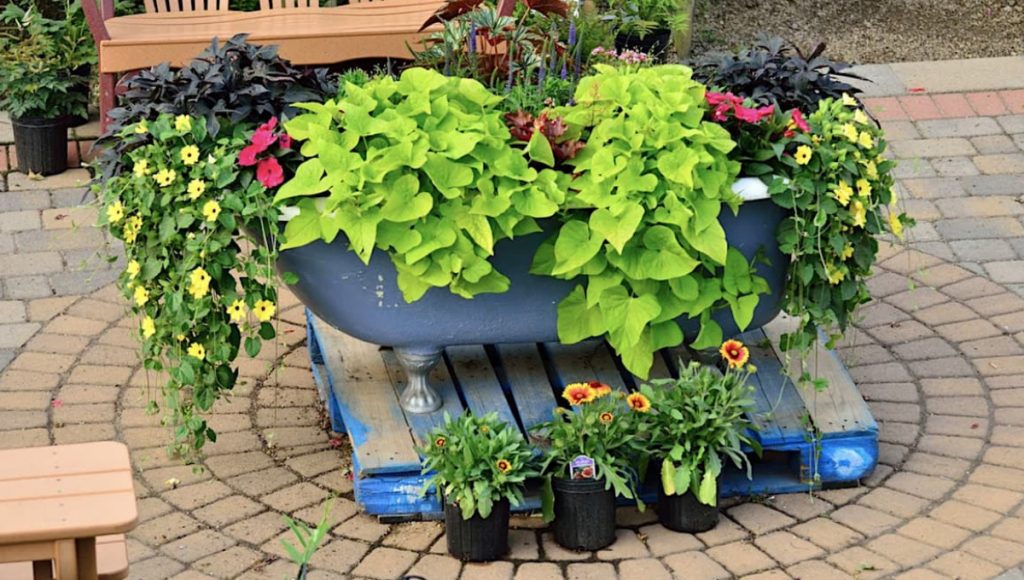 Aeroponics
This is an advanced method of hydroponics that has been developed and become popular recently. The roots of plants here remain in the air and only a fine mist of water sprayed on them every other minute helps them grow. The roots, therefore, have access to nutrients and oxygen constantly so they remain super healthy, develop more root hairs, soak up the solution faster, and plants grow quicker. The plants are not susceptible to diseases and produce larger yields. So think about such a system if you grow plants that do not do well in traditional hydroponic systems. The drawback of such a system is that it depends on the tiny spray nozzle that can get clogged easily so the system needs more regular and deliberate maintenance. The pump may also fail and the roots dry out very quickly.
Nutrient Film Technique
This hydroponics planter is quite simple and great for beginners. The steady water flow is provided to plants and there is no need for a timer or any adjustment. The water is pumped up into the tray and cycled back to the reservoir. The remaining water at the tray's bottom is soaked by the thick mat so the roots of plants always have access to nutrients. The benefits are obvious – no timer and no additional effort are needed. Though, the pump may still fail so you should be very attentive when buying it if your job is connected with some traveling.

Benefits of Indoor Hydroponics
It is difficult to enlist all the true benefits of indoor hydroponics systems. We have compiled a list of the most obvious and important ones.
Hydroponic Plants Grow Faster
The fact is that hydroponics herbs and plants grow almost 20% faster and produce 25-30% more crops than those grown in soil. Hydroponic systems do not cause diseases and pests. Fungi and moist can be easier avoided because such systems are much cleaner. Nutrients are used more efficiently so they are needed in a smaller amount. Therefore, the cost of growing plants indoors is sufficiently lower.
Herbs and Vegetables Can Grow All Year Round
This feature is most appreciated by many people. They can get their grocery bills lower and the fresh greenery is always accessible if you cannot find them in stores.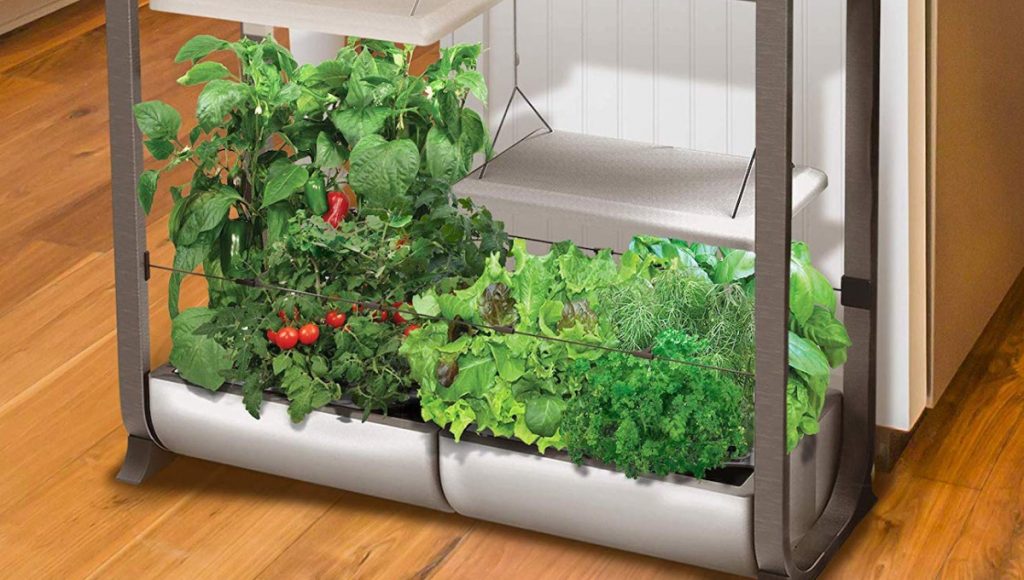 Hydroponics Saves Water
The water in such systems recirculates so there is no loss of it. In fact, hydroponics plants use 10 times less water than those grown in soil. Such systems are more eco-friendly because the fertilizers are not washed up into rivers or aquifers.
Overall, plant growing at home can cheer you up when the weather is cold and everything looks dull and gloomy on dark winter days. Your mood can be elevated when you use bright grow lights with your hydroponic starter kit.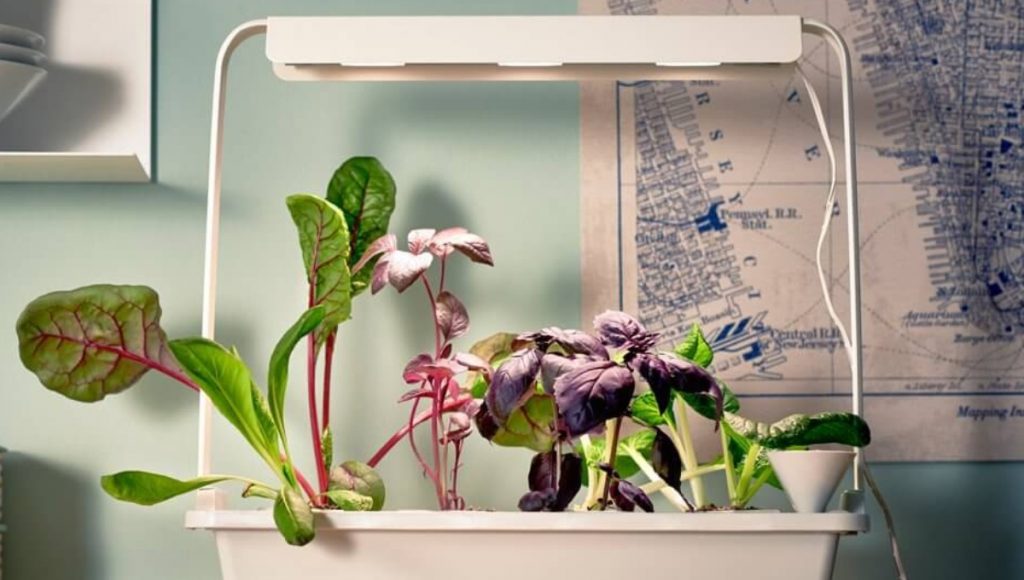 Conclusion
Farming and gardening may seem a complicated process. Though, it has never been as easy as with the best indoor hydroponics gardening kits. They are suitable for beginners and let them have fresh greens and organic vegetables on their table all year round.
Consider this miraculous option, choose and order one such appliance from Amazon.com or find it in your local household store if available, and enjoy the process and its results.